*We strive to help you make decisions with confidence. This post and site may contain affiliate links, which means we may receive commissions if you purchase through links provided (at No extra cost to you). Our opinions are our own.
When you decide to join affiliate programs in 2022, your primary goal should be to make commissions by recommending services & products so that you make money while you sleep and wake up to something like this:
If you want to have a comprehensive list of the best high-paying affiliate programs out there and learn how to make commissions,
then read this post until the end,
and watch the video tutorials towards the end to show you how to apply and use ads and social media platforms to take your affiliate journey to the next level. The list below will include at the end all affiliate programs to join in regular categories like
web hosting, VPN, finance, website builders, health, fashion, travel beauty, fitness, cryptocurrency but also podcasting
. It will also cover the best recurring
affiliate programs
with commissions paid every month for a lifetime, and the best affiliate networks to join today. You will be able to apply for programs that pay recurring commissions monthly as long as the people you refer keep using the product or service.
What is an Affiliate program?
An affiliate program is a type of online marketing that enables businesses to promote their products or services, by partnering with other individuals or entities.
In affiliate marketing, the merchant pays the affiliate for each customer referred. This is not an exclusive agreement; merchants can pay affiliates for leads or sales, even if they are generated through other channels.
Affiliates promote products on their websites or social media pages by displaying links or ads. When visitors click on these links or ads and make a purchase, the affiliate earns a commission.
If you are a beginner and do not have a website yet to make money online with affiliate marketing, please read my guide
How to START A BLOG in a few steps
to start your beautiful website in a few steps with WordPress. In the post, there is a video guide to walk you step by step if you don't like to read. All my websites are hosted on
Bluehost
, and you start today for as low as $2.95/month. I will talk about the best platforms to start Affiliate Marketing, the best courses out there on Affiliate Marketing you can check as well as so many different affiliate programs.
PS
:
This list will be updated EVERY week and month
with new programs to apply for, so make sure to come back to check out new affiliate offers. If you want to find out and join the best affiliate programs in any niche and to make money quickly, this blog post is for you.
#1 Best Overall Affiliate Program of 2022: Builderall
Builderall is an all-in-one platform made for entrepreneurs and those wanting to start an online business. It has a set of
50+ tools
you can use
to start and grow any business
you want from a blog to a social media campaign to a powerful eCommerce, and that you can promote as an affiliate for free:
Website Builder
Funnel Builder
Build blogs for free
SEO Page audit
Video Hosting and Manager
Membership site builder
Booking & Calendar App
Private Online Chat Builder
Drag N Drop Email Marketing Automation
Professional Email Marketing Platform
Responsive Email Builder
Email Scarcity Timers
Super Fast CDN Servers
Website Daily Backup
Unlimited Builderall/Cheetah Subdomains
Blogging Apps
etc… all in one place that you can promote as an affiliate for free.
Here is how my Builderall dashboard looks like with all the tools that I have installed and that
I am using for FREE
.
So many tools that you can also use with your free affiliate account besides promoting it. After you create your account, go on "Affiliates in Menu", get your affiliate link and start promoting. Also to "Home" and "Apps" and start using their free tools to create your own business. You NEED to join it.
Cookie duration
: Life.
This is the LONGEST cookie duration I have ever seen on an affiliate program.
Commissions
: you earn a
100%
commission on your customer's first payment
& 30%
every time your customers pay their Builderall monthly fees if they decide to use Builderall Premium.
Sign up as a Builerall Affiliate for FREE today
There are lots of affiliate niches in this post, but only one affiliate program I highly recommend is the easiest to join and promote (free to join): it's
Builderall.
Ok, let's talk about other programs to join.
Best Affiliate Programs 2022: Web Hosting
Web hosting
an old and competitive affiliate marketing category because any business or individual that wants to have an online presence through a website needs web hosting.
Who should apply for web hosting affiliate programs:
blogs that talk about having a blog, an online presence, marketing, starting an online business or side hustle. The beauty of web hosting affiliate programs is that their commissions are mostly recurring, meaning you earn monthly or yearly as long as the referral has a host with the platform.
Bluehost
is my TOP hosting platform recommendation, with a free SSL comprised, free domain name, 1-click WordPress setup, an easy-use FTP, and 24/7 support (I love their customer service). You should apply for Bluehost because it powers more than 2 million websites already, so it's popular; applying is easy.
Commission Type
: High, one-time payouts.
Amount of Commission
:
$65
and up to
$130
per sale.
Minimum Payment
: you need
at least $100 of commissions
to release your payment.
Tracking Cookie Duration:
You are credited for the sale 45 days after the first click from the referral.
Marketing Tools
: When signing up, you get access to all types of banners, links, and texts you need to promote. Also, if you don't have a blog or an affiliate website and need to set up one like this one super-fast, click on my link below to get 63% off your regular
Bluehost
plan.
I highly recommend starting with Bluehost.
Click below to start with Bluehost and on the homepage menu, click on
Affiliates
.
Get Started as a Bluehost Affiliate
2. Hostgator
Hostgator
is a popular web hosting platform that was started by three webmasters who were looking to create a high-quality company that offered a cost-effective solution ($2.78/month) for small businesses. One of the key things that this company has built its reputation on is its customer service and support.
Commission Type
: High
Amount of Commission
:
up to $100 per sign up and flexible commission structures
(if you refer many people).
Minimum Payment
: $100
minimum
balance to reach before you are
paid
.
Tracking Cookie Duration:
tracking cookies last 60 days.
Marketing Tools
: When signing up, you get access to all types of banners, text links, article content, and even email templates you can use to promote. You can join the program either on
CJ Affiliate platform
or directly on the Hostgator website.
Get Started as a Hostgator Affiliate
3. WP Engine Affiliates Programs
WP Engine
is a popular WordPress-based web hosting company, providing fully customized web hosting plans tailored to the WordPress platform. They primarily concentrate on rate, security, and scalability. WP Engine's packages are not really cheap but they are the most professional out there. Their paid WordPress themes are used by some of the most successful bloggers out there like the
Foodie theme,
the
Infinity theme
,

the Business

theme, or the refined theme.
Here is what the Foodie Pro theme looks like for example on your website. Beautiful isn't it? Click on the picture to access more details about the theme.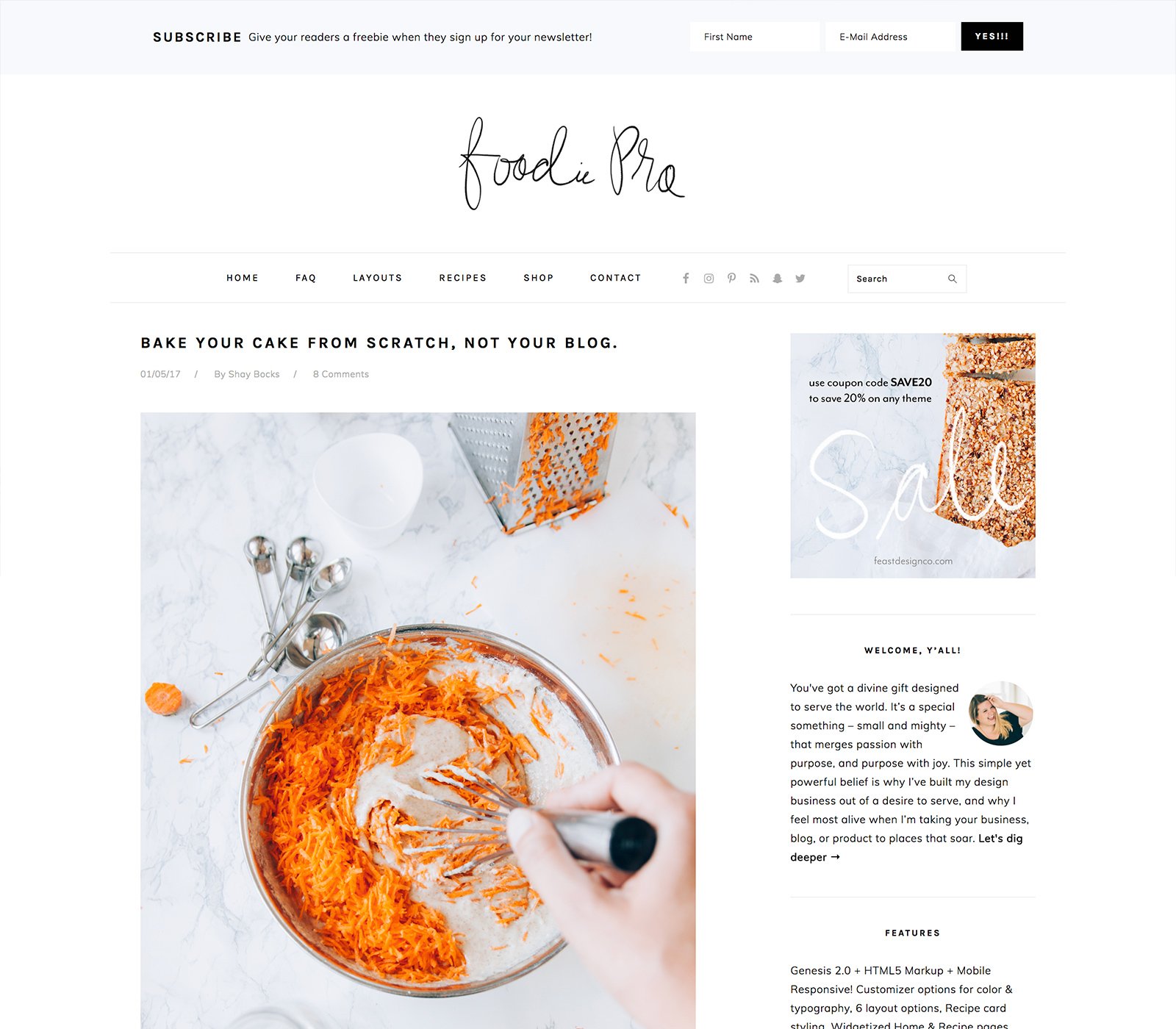 Commission Type
: Very high
Amount of Commission
: WP Engine pays affiliates $200 per referral or
100% of the first month's customer hosting payment
. They also have tiered-compensation, so if you make 5 sales, you get an extra $100; for 10 sales, you get an additional $250.
Minimum Payment
: $50
minimum
balance to reach before you are
paid
.
Tracking Cookie Duration:
tracking cookies last 180 days and up to 6 months
Marketing Tools
: When signing up, you get access to all types of banners, text links, article content, and even email templates you can use to promote. You can join the program on
ShareASale.
ShareASale is one of the best affiliates platforms that has 1,000+ of high-paying affiliate programs you can join today for FREE.
Get Started as a WP Engine Affiliate
4. iPage
iPage is an all-inclusive web hosting service that starts at a very low price ($1.99/month). It offers a variety of web-hosting services for webmasters and online businesses to develop websites on the Internet.
Commission Type
: high
Amount of Commission
: $65 and up to $150 commissions.
Minimum Payment
: $100
minimum
balance to reach before you are
paid
. Paid on PayPal.
Tracking Cookie Duration:
60-day long tracking cookie.
Marketing Tools
: When signing up on CJ Affiliate, you get access to many banners, text links you can use to promote.
Get Started as an iPage Affiliate
Website Builder Affiliate Programs
Besides Web Hosting, website builder platforms and eCommerce platforms are at the top of my recommendation list. To have an online presence, you need a web hosting as well as build your website, that's where the website builders come in. Most of those companies like Wix or Squarespace pay high commissions because users will remain on their platforms for a while after building their sites, and they can always upsell their products.
1. Wix Affiliates Programs.
Wix is a top and popular website builder with more than
109 million users,
which makes it an attractive program to promote. The platform builds awesome landing pages in multiple languages for its users. It is a very cheap option and super simple to
start your website
and make money through affiliate links. On the Wix website, it says:
If you're interested in affiliate marketing as part of your blogging strategy, creating a blog is simple and free of charge.
So you might be able to create a site for FREE if you click on the link below.
Commission Type
: High
Amount of Commission
: $100 commissions per sale.
Minimum Payment
: $300
minimum
balance to reach before you are
paid
.
Tracking Cookie Duration:
90 days long tracking cookie.
Marketing Tools
: you get access to many banners, text links you can use to promote.
Get Started as a Wix Affiliate
2. SquareSpace Affiliates.
Squarespace
, Inc. is an online private American corporation, based in New York. It offers website hosting and software as a service to website design and hosting companies. Squarespace's business model allows you to customize your site to suit your individual needs and preferences, allowing you to quickly get online and start designing your pages. Squarespace offers several templates that are ready to use for any kind of website, including those with lots of text, photos, or just a simple HTML page. You can use these templates to make a website from scratch or use them to customize a site. With this business model, website owners do not need to pay for the site, but rather pay a monthly subscription fee for their webspace.
Commission Type
: High
Amount of Commission
: $100 to $200. Get paid for every website or commerce subscription. Unlimited referrals.
Minimum Payment
: $100
minimum
balance to reach before you are
paid
.
Tracking Cookie Duration:
45 days long tracking cookie.
Marketing Tools
: you get access to creative resources and tracking links you can use to promote.
BIG DOWNSIDE:
The downside of Squarespace is that doesn't pay for domain purchases or trial signups, so it can be hard to make money here. They reject affiliates from many states in the US and foreign countries, so I would not really recommend it, but if you want to give it a shot, go ahead.
Get Started as a Squarespace Affiliate
BigCommerce is a popular SaaS or "Software as a service" e-commerce platform with more than 60,000 merchants. Its tools include customer groups and segmentation, search engine optimization, web hosting, and more.
Commission Type
: Very High
Amount of Commission
:
200% of the customer's first monthly payment or $1500
per enterprise customer. and Unlimited referrals.
Tracking Cookie Duration:
90 days long tracking cookie.
Marketing Tools
: banners, text links, and content templates.
Get Started as a BigCommerce Affiliate
Online Course Platforms Affiliate programs 2022
You should know that The e-learning and online course market are growing like CRAZY every year and estimated to be worth
$325 billion by 2025
. Many people today buy courses online to educate themselves instead of relying on the old school system, that's why promoting online course platforms is a win for you.
1. Thinkific.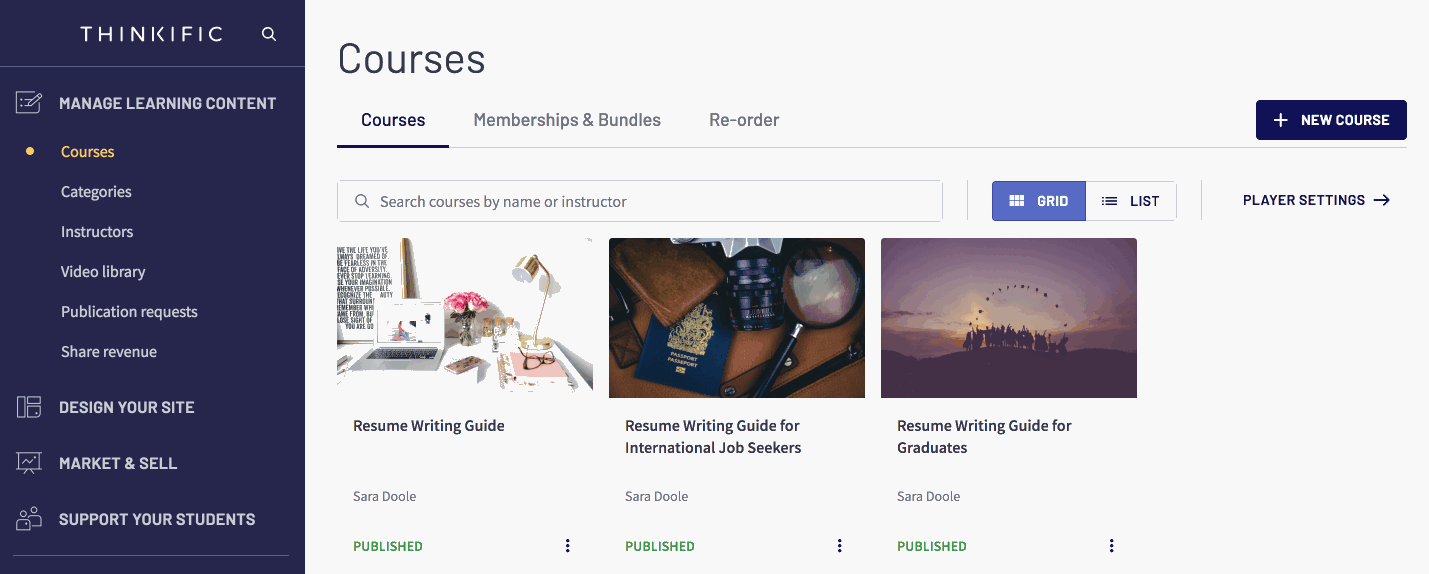 Thinkific's mission is to boost your education empire. It's one platform with many features, email marketing tools, membership site integration for your classes, and great 24/7 customer service. If you want to create an online course, it's the platform you need. You can integrate Thinkific with over
1,500 apps
by using
Zapier
without using for a WordPress plugin. If you want to promote as an affiliate, use the link below.
Commission Type
: VERY High and recurring
Amount of Commission
: you could earn
up to $1100 per referral per year. Imagine 100 referrals = $110,000/year
Also, you get
20% recurring commission
on all monthly or annual paid plans for as long as the
new subscriber pays for Thinkific
.
Tracking Cookie Duration:
90 days long tracking cookie.
Marketing Tools
: banners and text links.
Get Started as a Thinkific Affiliate
MindValley Affiliate Program.
In case you don't know about Mindvalley, it's the largest online personal growth platform in the world. Millions of people around the world are always trying to improve and develop themselves. In MindValley, people can choose from hundreds of personal growth programs and impactful transformative content taught by
brilliant minds
like Vishen Lakhiani, Katherine Woodward Thomas with results that speak for themselves.
Commission Type
: High
Amount of Commission
: Baseline
Commission of 30%+
of whatever course the referral buys. Also, Mindvalley will do retargeting campaigns for the traffic you send, so if they don't convert the first time, they will retarget visitors and cover the cost. You will still a commission at the end
Tracking Cookie Duration:
30 days long tracking cookie.
Marketing Tools
: banners and text links.
NOTE
: You can only apply if you have an audience of at least 200K fans/followers/visitors on your YouTube channel for example or Instagram/Twitter/Facebook/Blog platform.
Get Started as a MindValley Affiliate
3. Teachable Affiliate
Another wonderful platform to create and sell online courses is
Teachable
. The platform makes it easy whether you have tech skills or no tech skills (beginner). You can put all your hard-earned knowledge out of your head and into a great course that educates others. Teachable has more than
100,000 creators
who've sold over
$500 million
in courses and coaching. As an affiliate, you can promote those courses and programs and earn
30% Lifetime Commissions
On Your Referrals. You can sign up in less than a minute using the link below.
Commission Type
: High and recurring
Amount of Commission
: Baseline
Commission of 30%+
of whatever course the referral buys. Since most customers pay Teachable every month, they will pay you every month as well. It means that if you refer someone, you earn a commission for as long as that person remains on the platform.
Example
: If the referral buys a course of $1,000, you get $300 commissions. If every month he/she pays for a subscription, for $100, you get $30 commissions in addition.
Tracking Cookie Duration:
90 days long tracking cookie.
Marketing Tools
: banners and text links.
NOTE
: You can only apply if you have an audience of at least 200K fans/followers/visitors on your YouTube channel for example or Instagram/Twitter/Facebook/Blog platform.
Get Started as a Teachable Affiliate
Blogging or Content Creation Tools Affiliate Programs
If you are a blogger or content creator, there are many tools that can allow you to create better and faster content. The list below covers some of my favorites.
1. Article Forge
Article Forge is an automatic article writer that uses artificial intelligence to write completely unique, freelancer quality articles within 60 seconds. Article Forge removes 90% of the time and costs associated with content creation. Users of the tool subscribe either to a monthly or annual plan, so as long as they keep paying and you've recommended them, you keep earning money. Here is an in-depth review I made about Article Forge with video tutorials:
Article Forge 2.6 Video Review: Urgent Message for Bloggers
Commission Type
: high
Amount of Commission
: 25% commissions or $9.99/month per person or $49.99/year per person.
Minimum Payment
: $100
minimum
balance to reach before you are
paid
. Paid on PayPal.
Marketing Tools
: you get access to many banners, text you can use to promote.
Sign up as an Article Forge Affiliate
2. Wordai
WordAi is the most creative spinner ever conceived, using powerful artificial intelligence to understand the meaning behind each word and phrase to give you perfectly readable and unique content in just one click! Read my review of Wordai 4:
Wordai Review: the Best & Fastest Article Spinner
Commission Type
: high
Amount of Commission
: 20% commissions. $10/month or $120/year per person you refer.
Minimum Payment
: $100
minimum
balance to reach before you are
paid
. Paid on PayPal.
Tracking Cookie Duration:
30-day long tracking cookie.
Marketing Tools
: you get access to many banners you can use to promote.
Sign up as a Wordai affiliate
3. SEO Content Machine
SEO Content Machine is an advanced automatic article generator and spinner that will download high-quality content across the web, compose a unique article for you using Artificial Intelligence (AI), automatically insert external links, images, and videos into the created, and it can even translate content in many languages. Read this in-depth review I made about SEO Content Machine:
SEO Content Machine Review: Pros & Cons (vs Article Forge & Wordai 4).
Here is how I earn recommending SEO Content Machine easily.
Commission Type
: high
Amount of Commission
: 25% commissions.
Minimum Payment
: $100
minimum
balance to reach before you are
paid
. Paid on PayPal.
Tracking Cookie Duration:
30-day long tracking cookie.
Marketing Tools
: you get access to many banners, text you can use to promote.
Sign up as an SEO Content Machine Affiliate
Best Insurance Affiliate Programs
Insurance affiliate programs are among the highest-paid categories because customers usually pay a lot of money to get coverage. Most of these Programs pay even per "verified lead", not purchase. So as long as the referral enters their email and maybe completes a consultation, you are already paid a commission.
Life Ladder is a life insurance company that gives term life insurance with no commissioned sales agents or fees. So there is no other middle man beside you as an affiliate. The company recognizes that life insurance is dynamic so they enable customers to decrease their coverage whenever they want without any trouble or fees. They provide access to tools like banner ads, text links to allow you to promote well.
Cookie duration
: 60 days.
Commissions
:
$75 per verified lead.
A lead is when the customer signs up, even without purchasing.
Apply for Ladder Life Affiliate program
Liberty Mutual has been in the insurance business since 1912 and provides insurance products in about 30 countries. The types of insurance products include auto insurance, homeowners insurance, renters, life insurance, general liability, etc.
Cookie duration
: 120 days.
Commissions based on insurance type
:
Auto $10/lead, Home $10/lead, Renters $3/lead, and Multi-Policy $17/lead
. With this program, you get a commission when a visitor to your site clicks on our link and completes a quote.
Apply for Liberty Mutual Affiliate program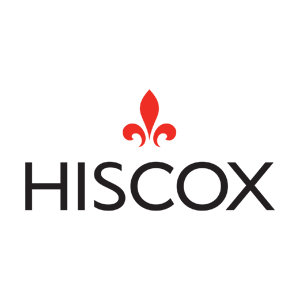 Hiscox Small Business provides insurance to small professional businesses. The company has more than 100 years of experience in insuring businesses. What I like is that they say:
"On referred traffic to our site, we have a 33% conversion rate to quotes".
So you have a high chance of making good money if you send massive traffic there. Their affiliate program is hosted on CJ Affiliate.
Cookie duration
: 120 days.
Commissions
:
$25 per quote
Apply for Liberty Mutual Affiliate program
Best Business Tools Affiliate Programs
This is a compilation of websites or platforms that sell or offer tools for entrepreneurs and businesses and pay high-commissions to affiliates (often 100% of the sale). So if you promote them, be mindful that your audience has to fit in that category of people who may want that tool or software to succeed as a business or to start a business.
Fiverr
is a top choice because the platform is in a niche that is evergreen, online services. In fact Fiverr is the biggest marketplace for online services, has over 250+ categories, and more than 3 million digital services you can promote. Individuals and companies need services like website building, logo design, walk a dog, handle digital marketing, SEO, and request those services on Fiverr every day. Fiverr Freelancing can be very lucrative. If you have a good website with a lot of information about your own product, you can make hundreds of dollars an hour. The best thing about Fiverr Freelancing is that you can sell anything that you want, and you can also sell other people's products, which makes it a great way to make money if you become an affiliate. When promoting, you can choose between
Fiverr CPA and Fiverr Hybrid
commission plans.
Commission Type
: High, one-time payouts and recurring, depending on whether the user keeps using the product/service.
Earning Potential
: up to a
$150 CPA
for every first-time buyer,
up to $1,000 per sale.
Some services are high tickets and can go up to to $10,00.
$10 CPA + 10% RevShare
Marketing Tools
: multiple banners, links you need to promote.
Tracking Cookie Duration:
Your affiliate link includes a
12-month tracking cookie
. So if a user clicks on your affiliate link and buys a service or product withing 12 MONTHS, then you will be credited with the referral.
Get Started as a Fiverr Affiliate
AppSumo is a top software deal site for entrepreneurs to make money online. It offers deals, discounts on small business softwares and tools that can help entrepreneurs. On Appsumo, businesses selling digital products/services can list their products or services at deep discounts (sometimes FREE) on the platform in order to attract a lot of clients, have them try out, and become recurring customers. Also, entrepreneurs or those wanting to start a business can also explore those offers available on the site from tools that can help them grow their businesses and buy if they want at the discounted prices. Products/services listed there are for example: photo/video editing, hosting virtual events, automated transcripts, project management systems, or social media tools.
Cookie duration
: 30 days.
Commissions
: Up to 100% commission per referral.
Sign up on Appsumo for FREE
3. Hubspot
HubSpot is a marketing software provider that helps companies to market their products and services. It is one of the top providers in the industry for inbound marketing services.
HubSpot offers a range of tools for managing customer relationship, lead generation, lead scoring, social media management, content marketing, conversion optimization and web analytics.
The HubSpot software includes inbound marketing tools such as blog publishing, search engine optimization (SEO), website conversion rate optimization (CRO), social media management and customer engagement.
HubSpot offers one of the best affiliate programs in the industry. You can make at least
$250 for a Starter/Basic,
$500 for a Professional/CMS
$1,000 for an Enterprise sale.
URL: HubSpot affiliate program
Commission: Up to $1,000
Cookie duration: 90 days
Best Recurring Affiliate Programs 2022
As I mentioned above, there are one-time affiliate programs where you only get paid once after the customer joins the platform or buys the product, and there are
recurring affiliate programs
where you get paid for the lifetime as long as the referral uses the product or platform. Here some of the best recurring affiliate programs.
Is a well-designed online course platform that allows you to host your courses online like Teachable.
Its commissions are 20% recurring. If someone has purchased of course or a product on the platform, you earn 20% of that sale.
And every single month the person will stay to use the course and pay, you will keep earning 20% of that amount.
Learn More about Thinkific
Moosend is a very powerful email marketing software and marketing automation platform that is affordable and will allow you to automate your marketing campaign. It has a very user-friendly interface and you can create some of the most amazing newsletters for your email subscribers.
Commissions
:
30% recurring commission
.
Learn More about Moosend
Leadpages
is a famous and powerful landing page builder taht comes with many functions. It can be used to create a high-converting landing page for your online courses, webinars, books, courses, and other services/products. You can also use ut to set up email opt-in forms to grow your email list and business faster. It comes with 200+ mobile-responsive landing page templates, pop up forms and you integrate it with WordPress easily. If you promote this, your referrals will love it.
Commissions
:
30% recurring commission
.
Learn More about LeadPages
SEMRush is a very popular SEO tool used by a lot of bloggers and internet marketers worldwide to do keyword research track the keywords used by their compensators.
It improves the Search Engine Optimization on websites by auditing and looking at potential backlink opportunities that can improve the traffic and revenue of your site.
Commissions: 40% recurring.
Apply for SEMRush affiliate program
Click Funnels is an all-in-one software that can help entrepreneurs and businesses market and sell products and services online. Its online interface lets users design and build sales and marketing funnels (i.e., pages designed to guide customers through certain action steps of the buying journey).
Business owners can use ClickFunnels to create an entire sales funnel that will be able to promote, sell, and deliver their products online.
Commissions: Up to 40% of the product sale. Since most users pay monthly to use the features, you get recurring commissions.
ConvertKit
is an email marketing software to grab leads
(30% commissions lifetime recurring).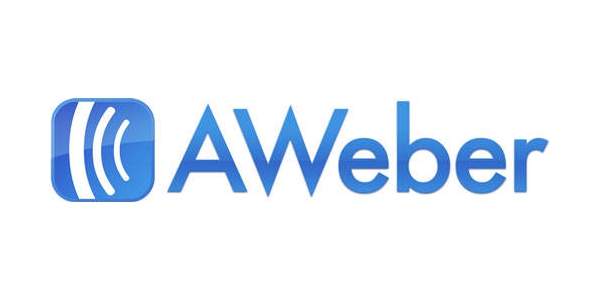 AWeber
is
another popular email marketing tool
(30% commissions lifetime recurring).
InstaPage
is used to design attractive landing pages with a simple drag-and-drop interface
(50% commissions on first payment, 30% on the following payments).
Shopify
is a powerful and famous e-commerce platform that allows anyone to set up an online store and sell their products
(20% commissions lifetime recurring)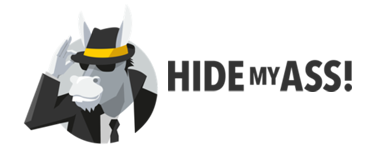 HideMyAss
: The tool is a Virtual Private Network tool that gives users access to military-grade encryption to unblock several streaming sites, hide your IP address, and not be found on the internet.
(100% commissions on first purchase + up to 65% commission for each renewal).
They also offer a
7-day free trial
to test out the features.
Best Travel Affiliate Programs
There are many bloggers are in the travel niche, and some of them are not aware of the travel affiliate programs listed below. Make sure you apply and populate your travel blog with deals your readers will love.
It's the largest travel affiliate platform out there. The Travelpayouts Affiliate Network is a convenient platform for monetizing all sorts of travel traffic. It's one of the first affiliate programs I joined when I started this journey online.
Who is it for:
If you have a travel blog, Facebook group, YouTube channel, or any other source of travel traffic that includes paid advertising, join Travelpayouts today using the link below to earn money selling flights, hotels, car rentals, and other travel services.
How many programs are on the platforms
: At Travelpayouts, you can work with more than 80 affiliate programs, including
Booking.com, TripAdvisor, Kiwi, RentalCars
, and others by clicking the "
Programs
" tab.
What I like about their dashboard is the detailed statistics for all programs are presented on a single dashboard under "
Reports
", so you can always find the exact number of sales you made for each program without ever leaving Travelpayouts.
Travelpayouts provides a wide range of affiliate tools to its partners: from classic tools, such as links and banners, to advanced solutions, such as White Label and API. Their widget is absolutely stunning because you can actually import something this:
on ANY page of your site (e.g., on the sidebar, at the end of blog posts etc…) and allow your visitors to book flights, hotels, cars, and vacations from your site, and you get a commission when they book through your widget. If you have your blog on WordPress CMS, there is actually a free
WordPress plugin
that will add affiliate tools to their site in a few clicks. All tools are available in multiple languages. For instance, the Hotellook White Label can be translated into 59 languages, while the Booking.com widget is available in over 10 languages.
Commission Type
: Medium. From 2011 to 2022, Travelpayouts paid affiliates over $25,000,000. Top affiliates can earn between $20,000 to $30,000 per month.
Amount of Commission
: Commissions are based on a CPA-model and vary between programs. They start at 1% and can get as high as 25% for some programs.
Minimum Payment
: The minimum payout amount is $50. You can receive your money via
PayPal or bank transfer
.
Tracking Cookie Duration:
The average cookie lifetime is 30 days.
Marketing Tools
: When signing up on CJ Affiliate, you get access to many banners, text links you can use to promote. Monetize your traffic easily with Travelpayouts!
Sign up for Travel Payouts Now!
Villers Jet
Villiers Jets is the first company of its kind to offer a turnkey service for private jet leasing.
They make it easy for you to find the right flight with their flight search engine, arrange catering with their on-demand catering system, and make sure you are picked up by their round-the-clock ground transportation team.
One of its best features are the high-end products with a recurring commission at 30%. This provides it with continuous growth, so it's not just a one-time occurrence.
You can book more than 10,000 flights on international routes. If you sell an "empty leg" flight to the customer, you can earn $541.50 in commission.
URL: Villiers Jet affiliate program
Commission rate: 30%, monthly recurring commission
Cookie: 365 days
Crypto & Bitcoin affiliate programs
I started trading crypto last year in March 2020. I started day trading Bitcoin, XRP, Ethereum, Litecoin, Cardano, and Stellar, and today Safemooon as well as every coin on Binance. Crypto can be addictive, and scary with that volatility.
Many crypto programs have a similar structure to regular referral programs. Users register and you get a cut of their trades for up to one year.
Some other crypto programs include recommending digital wallets, such as Trezor or Ledger, or joining a platform like Coinbase.
Blockchain technology is here to stay whether people want it or not.
Check out these programs if you are interested in joining an affiliate company in a rising or falling industry. You will see your revenue chart rise to the moon.
Here are the highest-paying affiliate marketing programs for cryptocurrency.
Commission: 20% of the referral's trade fee, 40% if 500+ BNB.Payout: In real-time to Binance accounts
Commission: 20% per trade of the trading fee paid by the user Earnings period: 1 Year from the date of registration.
Commission: Get $10 for every $100 that a user spends on BTC
Earning Period: Once per customer
Commission: 20% on sales
Commission: 10% from the net sale amount
Payout: In BTC, with a minimum of 0.1 BTC payout amount
Finance & Credit Card Affiliate Programs
Transunion estimates that every American has 2.69 credit cards.
Americans are great at spending money that they don't own.
By smartly reviewing credit cards and loan companies as well as accounting tools, your audience can improve their credit scores while helping them manage their finances.
There are many opportunities to recommend credit cards, especially with the growth of insurance and credit card review sites.
Finally, you have the option to recommend small business accounting software.
They are well-known for being the highest-paid affiliate program on the market, regardless of which finance company you choose.
Here are the best ways you can get started in finance affiliate marketing
Commission: Many payouts are based on the type and credit card used
Commission: $10-40
Cookie Duration: 30 Days
Commission: 7%
The Cookie Lasts for 45 Days
Note: You can connect with affiliate networks to get credit card offers
Commission: $55 per lead, $55 for each customer
Cookie duration: 120 Days
Commission: $2.50-20 per lead, depending on the type and level of insurance.
Commission: $20
The Cookie Lasts for 45 Days
Commission: Cost per lead is $3-17 depending on the type and level of insurance
Other High Paying Affiliate Programs
Marketing Boost
Marketing Boost is a lead generation tool that lets business owners give away unlimited free vacations to their customers.
Here's how it works: Marketing Boost allows companies to reward customers with a free promo offer if they meet a certain criterion.. ( For example, a customer makes a $1,000 purchase, signs up for a particular event, etc.) If qualified, the customer receives a voucher from Marketing Boost.
Marketing Boost is a company which offers different pricing plans. The cheapest pricing plan starts at $30 per month and the most expensive one is $300 per month.
As an affiliate, you would get a commission for the lifetime of every customer you refer or for any purchases that customer makes. And if you're a registered user, it will also pay if you refer other affiliates to sign up with them.
Sign Up Link: Marketing Boost Affiliate Program

Commission: Up to 40% commission, recurring commissions, and two-tier commissions

Best for: business owners who are looking for ways to increase leads & sales.
Platforms with many Programs to Start as an Affiliate
Affiliate marketing has two different setups: you have affiliate "programs" and affiliate "networks". Networks are marketplaces hosting affiliate programs where you can apply. They usually have often hundreds or thousands of affiliate programs within it. Below are the marketplaces that have hundreds and thousands of affiliate products and programs that you can apply for in one place and earn commission on them.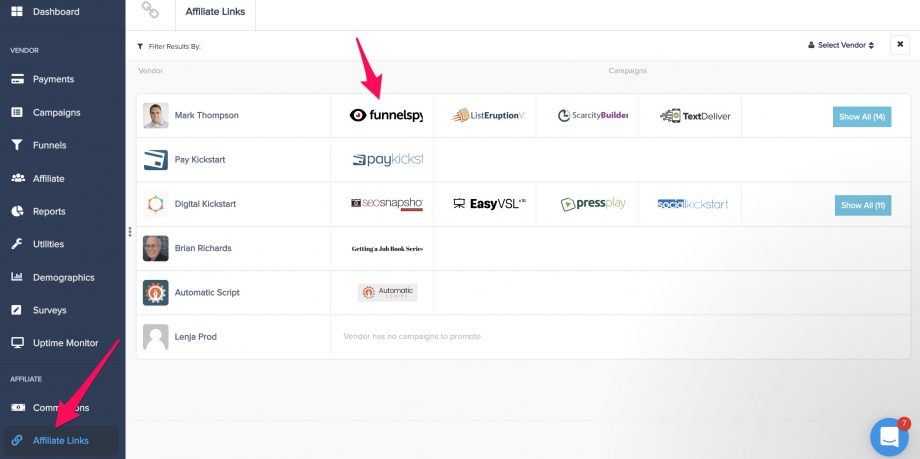 I have 5 affiliate programs I currently manage through PayKickStart including FunnelSpy, Viddyoze, Tube Builders, and more. I get Lifetime Commissions on them. Just look at the screenshot below.
The best thing about the platform is that
it's free
to join but
has many products and services
for business growth, brand visibility, and boosts client revenue
that are highly demanded
like FunnelSpy, TextDeliver and more. Affiliates can find their unique affiliate link(s), promotional banners, email swipes, and more provided by the vendor.
Join PayKickStart as an Affiliate
ClickBank is a global internet retailer and affiliate marketplace, founded in 1998. When we talk about affiliate marketing, most people know about ClickBank. The company has more than six-million clients worldwide. It's free and easy to sign up and you can earn money right away. Clickbank has more than 270 categories and 20,000+ product listings. So there is enough to start selling. Here is a great video example of How to be successful on ClickBank from Joshua Elder.
Join Clickbank as an Affiliate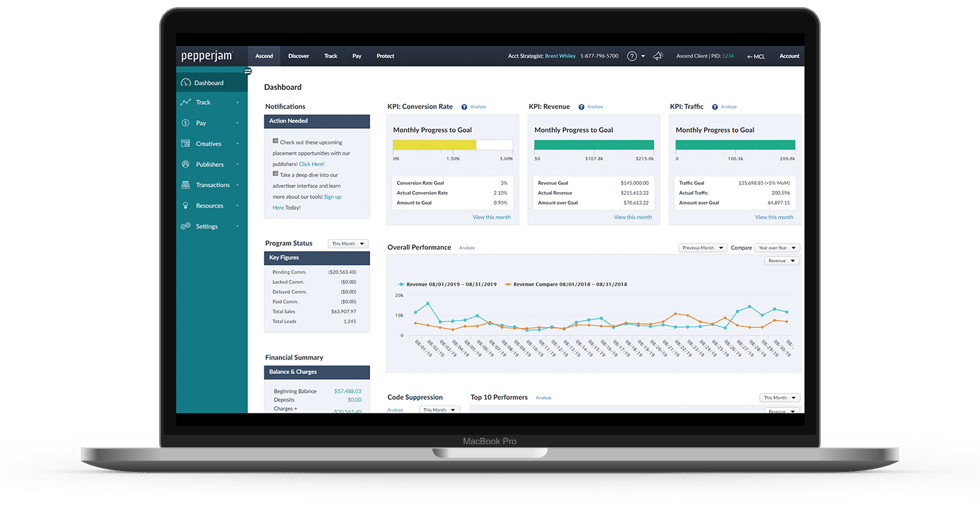 This network contains some high-quality affiliate programs including Puma, Nordstrom Rack, LendingTree, and Autozone. You can join as a publisher or as an affiliate.
Pepperjam doesn't need your money in order to join the platform and start applying for affiliate programs. All you need to do is click on the link below to start.
Video Tutorial to Find Affiliate Programs on Pepperjam
Here is a quick tutorial on how to find advertisers on Pepperjam easily.
Join Pepperjam as an Affiliate
CJ Affiliate is another platform that is well established in the marketing world and is used by millions. Some of the affiliate programs there are from Tony Robbins, Brian Tracy, Pay-per-call programs, and much more. This is my #2 recommendation after ShareaSale below. It's among the world's largest and most established affiliate marketing networks.
Join CJ as an Affiliate
ShareASale is a very popular affiliate network. They have two customer sets in affiliate marketing: the affiliate, and the merchant. Affiliates use ShareASale to find products to promote and earn a commission for referrals on those products.
ShareASale is FREE to use as an affiliate
and has thousands of great affiliate products and services to promote, virtually in any niche (e.g., wealth, health, finance, fashion, beauty, home etc…). Some programs I promote from ShareASale are
Tailwind for Pinterest
(a tool to grow your Pinterest account fast), WP Engine (Hosting, and professional WordPress themes).
Join ShareASale as an Affiliate
Other Affiliate Networks to Join
Here are other affiliate networks I suggest to join that contain thousands of products and software to promotes:
Conclusion
There are so many high paying affiliate marketing
programs
out there, literally 10,000+ you can apply for. I have a digital notebook (hosted on OneNote) and an excel spreadsheet where I manage all of my affiliate links. Things to consider when applying are: how much I get paid, is it recurring or one-time payout, average order values (AOV), average earnings per click (EPC), how long the tracking cookie lasts, will my audience buy the products if I promote them. Affiliate marketing is not new, but with the widespread of the digital, affiliate marketing is growing as fast as ever, and the opportunities are endless since companies online have their affiliate or referral programs.
In order to become successful with affiliate marketing, you need a professional website on WordPress. I recommend you
get started with Bluehost for just $2.95/month.
As mentioned in the introduction, I will update this list every week and month with new affiliate programs, so make sure to come back often and check it out.
Read also
:
How to Start a Blog (Ultimate Beginners Guide)
Affiliate Program FAQs
Here are some of the most asked questions about Affiliate marketing and some of the answers.
Difference between a high-ticket affiliate program and a low-ticket affiliate program?
High-ticket affiliate marketing is a challenge for beginners to try. Promoting high-value products such as diamond jewelry or luxury services usually requires that you have some sort of reputation in a specific niche.
Key differences include:
Higher earning potential

You sell to a specific audience

You are the go-to person in that niche. People seek your expertise.
It can be difficult to join some high-ticket programs, as brands may require you to apply and meet certain guidelines. This is because there are higher payouts for these types of programs.
As an affiliate, you could earn much more money from this type of program and sell less. products.If you do not meet the qualifications for a high-ticket program, you will have to work harder to sell low tickets products. However, this may result in lower revenue and a lower payout.
Low-ticket affiliate marketing opportunities are easier to come by. For instance, you can sign up for an Amazon or eBay affiliate account in minutes, and access hundreds thousands of products ranging from $25 to a few hundred dollars. They offer a range of features such as beauty, baby products, electronics and more
Low-ticket affiliate offers on Amazon, eBay or similar marketplaces are great for beginners. They can easily be advertised on your blog or social media and generally sell products in considerably lower amounts. It is necessary to sell a large amount of these products to make a lot of money, but they're much easier to complete than high-ticket items.
Can I Promote the Affiliate Links with Paid Advertising?
Yes, you can promote most affiliate programs with paid traffic if you send traffic directly to a specific page on your website where you promote the product or service (e.g., a review or a landing page). Two great tools I love to create landing pages are
Leadpages
and
Builderall
. You cannot send paid traffic directly to your affiliate links without the company's written permission. If you try otherwise, you might get banned from both Google ads for example, and the affiliate company.
What Ads Platforms for Paid Ads for my Affiliate Links?
Use Google Ads and Pinterest Ads. Two platforms where I would suggest to promote affiliate links via ads are Google ads and Pinterest ads. Facebook ads are super expensive today and sometimes do not have high returns.
If you still want to run Facebook ads, read this full guide on Facebook ads I put together:
Facebook Ads Complete Guide: How to Run Profitable Facebook Ads
You can create an ad on those platforms,

then send the link to a landing page that you created with Leadpages or in a blog review on your site.

then make sure that you put the affiliate link on the landing page or in the review at multiple places in the page (early on, in the middle, and a button at the end).

Also place an exit pop-up so that the person ends up clicking and visiting the affiliate page.
What are the highest paying affiliate niches?
Insurance, finance, make money online, online business or entrepreneurship, web hosting, and luxury products. You should definitely promote web hosting since they often offer recurring commissions.
Is affiliate marketing still profitable in 2022?
Yes, affiliate marketing is still profitable today. More companies more than ever are moving online to sell their products and services. Most of them now have an affiliate program to onboard affiliates to sell their products. So you can make good profits in virtually any niche if you know how marketing works.
Why do affiliate marketers fail?
They do not understand the principles of marketing and lack of discipline. Most of what they do is spam people across the internet with their links instead of properly building marketing channels like blog reviews, Pinterest ads, or even use YouTube to do product reviews.
Questions to ask before joining an affiliate network or program
There are a lot of affiliate programs out there that you should be aware of. It's important to decide which one is the best for your needs. Listed below are some questions you should ask yourself before signing up with an affiliate program:
* What do you want to promote?
* What type of offers are they offering?
* Which niche do they specialize in?
* Do they offer support or training?
* Will you have to pay anything upfront or monthly fees?
* How much commission will you get for each sale?
* What is their return policy on products purchased through your links?
How much can you earn with Affiliate Marketing?
As much as you want, depending on the amount of effort you put and the patience you have. It took me months of promoting the program in the screenshot above to start making recurring commissions and paid sign ups.
So keep promoting and do NOT give up. Happy affiliate marketing!
Read also
:
How to Start a Blog (Ultimate Beginners Guide)
Facebook Ads Complete Guide: How to Run Profitable Facebook Ads
Sharing is caring. Please Share this article with your friends and on social media.