*We strive to help you make decisions with confidence. This post and site may contain affiliate links, which means we may receive commissions if you purchase through links provided (at No extra cost to you). Our opinions are our own.
This full guide walks you through the BEST car rental services and companies in 2022 (e.g: Enterprise Rent-A-Car, Hertz, Alamo) from customer service to car rental reviews, their phone number, opening hours, and more.
Which company offers the top support? After reading this guide, consider some of these leasing services for your future journey.
I believe car rental should become a seamless experience and something that's personalized to your needs.
It should be affordable and convenient whether you're searching to rent an SUV, hatchback, or sports car.
This guide will help you find the best or most affordable car rental agency in the quickest way possible.
According to the J.D. Power 2018 Rental Car Satisfaction Study, customer satisfaction together with airport-based rental car companies is at a record high.
Rental car companies have assured that travelers have the very best variety of vehicles offered for the best price.
IMPORTANT:
1. At the end of this guide, we present you with a powerful search form that you can use to find the cheapest car rental from anywhere in the world fast and easy.
Let's dive into the top car rental companies in the U.S., the summary, customer service, reviews, other Frequently Asked Questions.
The BEST Car Rental Services and Companies
1. ENTERPRISE Rent-A-Car
Enterprise Rent-A-Car is one of the largest rental car companies in the world, which owns and manages more than 1.5 million vehicles.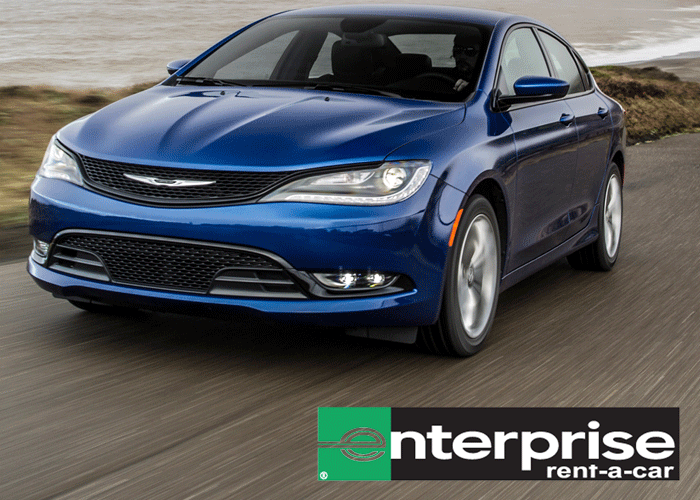 It's super-convenient: there are almost 6,000 locations across the U.S., and a lot more than 1,600 airport locations across the United States.
The company supplies an excellent"NeverLost" GPS program with access to an online trip planner.
Additionally, you will have access to downloadable city guides which can be useful for travelers, particularly when driving in more distant places.
One of the leading automobile industry's costlier providers, Enterprise's daily speed averages near $50.
Even though Enterprise's daily rate is higher compared to the typical car rental pace, the organization has reduced additional charges, such as for drivers under the age of 25.
Enterprise Rent-A-Car takes the cake on client satisfaction. It's ranked the highest of the car rental companies in a recent survey.
If you chance to be moving or living someplace to get work, the company does special prices, that offer bigger savings the longer days you have the vehicle.
If you actually want to dash out for a special occasion, the business offers exotic car rentals, too.
Customer Reviews
From Consumeraffairs.com
"Rented from Enterprise's TF Green Airport location this past weekend in Warwick, RI and I had a great experience from start to finish. Check-in at the counter was a breeze and the gentleman assisting me was very helpful considering this was my first time.

When I went upstairs to pick up the car, Brian showed me all the cars available at the time and explained the insurance options in detail, which eased my mind. It was a good pay-week so I was happy to upgrade and there was totally no pressure at all.

I'm so glad I did though as the luxury car served me much better on the trip (in terms of comfort and performance) than the car I initially booked, so that made the overall experience a lot better." — Ollie of Providence, 5 Stars.

"I checked on my app for a SUV and it had call for availability. I did and was told it was not available at my local store. I noticed a minivan was and ask for it. The customer service rep put me on hold confirmed it was available and booked my reservation. That was at 11 AM yesterday.

Around 3PM yesterday I got a call informing me that there was no van available. Sorry for the problem. I have been a fateful customer of Enterprise for years renting more than 15 times a year. Most of the time I have great service and the rates are more than fair." — Jim of Ocean Springs, 1 Star
Enterprise Phone Number & Weekend Opening Hours:
+1 (855) 266-9565. 
The stores seem to be opened Saturday 9 am to 12 and closed Sunday, but always call and check with a local store before going.
Suggested posts: Geico Insurance Best Review 
Enterprise Rent-A-Car: History, Mission, Best Reviews, Everything you Need to Know
Hotwire Cheap Flights Best Guide: Don't Use Hotwire Until You Read This
National Car Rental, a sister company of Alamo and Enterprise, excels in regards to customer support, carrying the No. 2 spot in J.D. Powers' annual report.
It has an enormous selection of vehicles to rent, from little streamlined cars to SUVs, cargo vans.
Renters may also place their booking using lots of common apps: Delta SkyMiles, American Airlines AAdvantage, and Southwest Rapid Rewards.
National Car Rental is also highly rated for customer service and has a wide variety of vehicles.
National is very good for business travelers with special rates available for companies of almost any size.
Tip: points from air miles programs including Delta SkyMiles and American Airlines AAdvantage can be used towards your car rental with National.
Customer Reviews
From Trippadvisor.com
"National is very good they are part of the Alamo and Enterprise family,never had a problem with them,been renting from them for many years." — OldieGuys, 5 stars.

"Yes not only is it an outstanding company it's the only rental company as far as I'm concerned. Sometimes a little more expensive than others but I feel in general the service is great. The cars are often much newer than you'll find at Avis, Budget, or Hertz. If you ask for a non-smoking car at National you will get a non-smoking car at national. I feel that too often at Avis especially, non-smoking marked cars smell like ashtrays. Make sure you join the emerald club as you get to choose any car that suits your taste in the Emerald Aisle and drive off the lot with a quick stop at the exit kiosk.

Have fun!!! " — Space caydet, 5 Stars
From consumersaffairs.com
"Trenton National Care Rental agent saved me big time on Sunday November 24 2019. I desperately needed a car rental. I called National in Trenton. This most caring professional lady, Cindy answered my call. Cindy arranged to meet me that morning, a Sunday at the unopened shop. Cindy arranged a rental right away.

Caring, compassionate, empathetic, friendly and professional to me. I felt like a very important customer which is rare these days. Thank you Cindy for helping me. I hope National knows what a special and extraordinary employee they have in you. I highly doubt any other rental place would have opened for on a Sunday for me. I will recommend you and National any and all the time." — C of Quinte West, 5 Stars

"After being a loyal customer of National Rental Car for many years, I've been accused of damaging a vehicle which I did not damage, nor was any damage noted when the vehicle was returned.

There is no recourse in their process, and they will not provide a copy of their investigation that determined my responsibility. I will not use them again, and I highly recommend that anyone reading this report consider your options before renting from National Car Rental." — Charles of Leesburg, 1 Star
National Phone Number & Weekend Opening Hours in the U.S:
Phone number+1 (844) 393-9989
The stores seem to be opened from 7:00a to 10:00p CST, but always call and check with a local store before going. For more info about other countries: CLICK HERE.
3. HERTZ Car Rental
HERTZ Car Rental is considered as one of the largest car rental companies there with over 1,600 airport locations in the U.S. alone.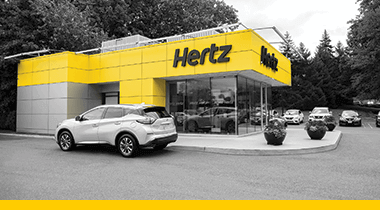 Not the most affordable, using an average daily rate of $48.50, putting it right below Enterprise.
Great assortment of cars that the provider offers: the company has high-capacity cars for compact and families market cars for people on the budget.
You can also find a selection of hybrid cars, luxury"dream cars"
The business also provides a fantastic "NeverLost" GPS app. I think this feature is pretty cool!
You will also get access to an online trip planner, that you can then download your path to your GPS with a flash drive, a concierge service for planning assistance, along with clever features like downloadable national park and city guides.
Customer Reviews
From consumersaffairs.com
" I want to take a minute to recognize one of your employees who I feel went above and beyond to help me. Her name is Connie and she is in the IT department. The problem with my reservation was actually not something that should have been sent to IT.

Despite that, she took the initiative to contact reservations and apply my coupon appropriately and fix the problem. I am still waiting for a confirmation email but felt moved to review CONNIE (Badge # **) because of her eagerness to help me, pleasant disposition and therefore – superior customer service. Please recognize her for this at least in an email. Thank you, Connie! Sincerely, Heidi **. " — Heidi of Newbury, 5 stars

"I am writing about the 2nd time that Hertz has failed at our reservation. The first time we tried to rent a handicap accessible van they said that it would be ready for us at the Worcester Park Avenue location.

When I got there they showed me the van, it was a standard minivan. I asked how am I going to get my son and his wheelchair in there? They said if you lay down the back seat you can then use some ratchet straps to secure him in. We did not complete the reservation, they said next time don't go online to reserve, do it at the location." — DAVID of Dade City, 1 Star.
Hertz Phone Number & Weekend Opening Hours:
+1 (800) 654-4173
For Opening hours: Click HERE and insert your location to find out.
AVIS Car Rental
Avis Car Rental is by far the most expensive rental company out there, together with daily rates averaging out to be approximately $60 per day.
Avis offers car rental services throughout the USA and North America, together with pick up and drop off points in major airports and key tourist locations.
Avis is rated for friendly and reliable staff.
Avis is also quite business-friendly. Small businesses can get up to a 30% reduction for car rental once you enroll in their business program.
There's a good chance you might have the ability to knock the purchase price down somewhat, with tons of discounts, rebates, and promotions out there to informed customers that are not scared to devote a bit of research job.
There's a separate program to directly manage your reservation from booking to drop-off, which takes out the hassle of fighting the way through a phone tree when you are supposed to be enjoying your vacation.
Avis Car Rental Customer Reviews
From consumersaffairs.com
"I rented a car through Avis for 11 days in August '19. The booking was made online via a website that was easily navigable and which offered special discounts. Picking up the car, which was immaculately clean, was convenient and the service personnel were polite and efficient. Overall, my experience with Avis was positive and I will most definitely use them again." — Joseph of New York, 5 Stars

"I made a reservation to pickup a full size SUV on Dec. 23rd. Three days prior, I confirmed my reservation. On pick up day, Avis told me they didn't have my car available. Called corporate office and told by Conan "reservation does not guarantee your car". Please consider this information if you decide to rent from AVIS. Your reservation is worthless." — Terrence of Round Rock, 1 star.
Avis Phone Number & Weekend Opening Hours:
Avis phone number: +1 (800) 352-7900
For Opening hours: it depends on your location. Click HERE and insert your location to find out.
4. ALAMO Car Rental
Alamo Car Rental is regarded as one of the greatest car rental options in the United States.
It's managed by the group that also handles Enterprise and National.
Not only are their everyday rates are usually lower than other leasing cars, but in addition, they offer uncapped mileage.
Alamo might be viewed as wallet-friendly, the company's cars run about $42 a day, which is around seven percent less compared to typical industry per-day price.
It has an app called the Alamo Insider complimentary app that gives customers a guaranteed reduction of five percent from the retail rate.
Customer Reviews
From consumersaffairs.com
"I was left stranded with no car by Dollar Car Rental. I went to the National/Alamo counter at PIE and Tisha (Trish?) did an outstanding job at hooking me up.

Beyond a better vehicle than I would have had at Dollar I paid less! I was frustrated with my poor experience at Dollar but Tisha really made up for it. She was so professional and friendly and had us on our way quickly in a beautiful vehicle. Thank you Tisha for a great experience!" — Holly of Largo, 5 stars

"We reserved an suv from Alamo and when we got in to get it at midnight they said they'd rented out all of their vehicles. They rented out our reserved car and we paid 200 more at the place next door. Bad form Alamo." — Lori of Portland, 1 star
Alamo Phone Number & Weekend Opening Hours
Alamo Phone number: +1 (888) 233-8749
For Opening hours: Regular hours for Alamo are Monday through Sunday, 9:00 a.m. until 5:30 p.m. During the summer months, hours are 9:00 a.m. until 7:00 p.m. Fore more, visit HERE.
Thrifty Car Rental is an American car rental business that offers cheap car prices. Thrifty cars are all under three years of age with less than 50,000 miles on the odometer.
You can find more than 300 conveniently located Thrifty car rental sites across the USA, including many at or near the airport.
Thrifty is a subsidiary of The Hertz Corporation.
Thrifty is a company is all about the bottom line for its own customers, but not much when it comes to returns.
They have a great internet checking system in which you simply enter your name and booking information before heading into the pickup office, and it is just as cheap as the other budget-minded rental places.
Customer Reviews
From consumersaffairs.com
"The team at Thrifty at Kansas City International Airport is world class. My reservation is always ready when I arrive and the counter folks are the nicest people in the business. I travel extensively and Thrifty is by far my "go to" rental car provider." — Craig of Lincoln, 5 stars.

"They slipped in 39.99 dollars a day for some insurance I didn't want and didnt realize till I got home and they said it was to late to refund anything, oh well dont be a fool like me, watch your paperwork carefully." — David of Meriden, 1 star.
Thrifty Phone Number & Weekend Opening Hours
What is Thrifty phone number: +1(800) 847-4389
The stores seem to be open Monday through Friday from 8:00 to 5:00 central time, but always call and check with a local store before going.
One of the cheapest car rental companies within the USA, Dollar offers everything from economy cars to larger pickups and vans.
Dollar is among the cheapest in the business, together with rates at roughly $30 a day (and also a further 15 percent off reduction on base rates if you register to their newsletter).
The business is known for its great consumer rewards programs. Dollar offers faster bookings and other incentives for business travelers.
Dollar Car Rental locations include Las Vegas, Miami, Phoenix, Salt Lake City, and New York.
If you are only focused on getting the most for your cash, then this could be the leasing company for you.
It's great for customers registered in rewards programs, with American Airlines points once you rent a compact car for more than three days.
It also has its own rental app that features business travelers that rent frequently some serious perks, and shorter lines.
Customer Reviews
From consumersaffairs.com
"After a horrible experience at Europcar in Cancun I walked next door to Dollar Car Rental. Air conditioned office, professional staff, no hard pressure p-selling. I was in and out within 10 minutes.

Drop off was as easy. Mid sized 4-door VW was in great shape. Highly recommend this hassle free, professionally run office in Cancun. Start your vacation without the hassle!" — Bar of Maynard, 5 stars.

"Reserved a 7 passenger van months in advance to arrive on the time of my reservation, and be told nothing is available. The only other vehicle she had was a suburban, but it was locked due to mileage, and the manager wouldn't unlock it.

I was told they had a truck or car, but after explaining I couldn't fit 7 people in a truck I was told we are sorry. This was the first, and last time this specific company will be used." — Clark of Dalton, 1 star.
Dollar Phone Number & Weekend Opening Hours
What is the Dollar phone number:  +1 (800) 800-5252
For opening hours, Click HERE, and enter a location to find if a local store is opened.
6. BUDGET Car Rental
Budget has a few of the cheapest car rentals at the business, using an average rental cost of roughly $35/day.
Budget presents great value for travelers in the United States looking for a car rental that is suitable for their budget.
Popular rental locations include New York, Nevada, Los Angeles, and Orlando.
Budget allows travelers to earn discounts and rewards from partner airlines and hotels including: American Airlines AAdvantage, JetBlue TrueBlue, and Southwest Rapid Rewards.
Great selection of cars from Mustangs to Vans, and class C cars.
If you want something which's not your regular rental car, Budget's got that too. You can rent hybrids such as the Toyota Prius or convertibles just like a Chevy Camaro here, too.
Customer satisfaction is not that great, starting with all the booking process and ending with the dropoff. If you are looking for high-quality customer service, it may be well worth paying much more with some of the services listed above.
Customer Reviews
From consumersaffairs.com
"I had a wonderful experience renting a car from Budget at the Sears location in the Brandon mall. The service that Sahar provides it's amazing. Sahar always has a smile and makes you feel welcome.

Sahar is an asset to your company. Will always use that location to rent because she provides excellent customer service." Grecia of Brandon, 5 stars.

"Please be aware that Budget Rent-a-Car expects customers to return the car in the same condition it was when picked up. This means they expect the customer to take the car thru a car wash and have it vacuum cleaned prior to returning the vehicle.

If you fail to do this, they will charge your credit card afterwards a hefty amount for cleaning services. I was charged $75 just for vacuum cleaning the front doormats. This is a SCAM, so please be aware!!!" Frank of Tampa, 1 star.
Budget Phone Number & Weekend Opening Hours
What is Budget phone number: +1 (800) 214-6094
For opening hours, Click HERE, enter a location to find if a local store is opened.
Overall Customer Satisfaction Ranking
The most current J.D. Power Rental vehicle Research relies on responses assembled from 12,068 business and leisure passengers that rented an automobile with an airport area.
The indicator ranking includes satisfaction using price, customer assistance as well as the vehicles.
| | |
| --- | --- |
| Car Rental Agency | Customer Satisfaction |
| Enterprise | 862 |
| Hertz | 848 |
| National | 846 |
| Avis | 824 |
| Alamo | 822 |
| Thrifty | 819 |
| Dollar | 816 |
| Budget | 813 |
Best for Preventing Added Charges: Enterprise is "super-convenient, about 6,000 locations across the U.S."
List of all the Best Car Rental Booking Sites in the U.S. & Europe
Take a look at this round-up of the services for the best car rental booking sites in both the U.S. and Europe:
Orbitz is a global leader in online travel planning and prices. Orbitz.com is a travel fare aggregator web site and travel metasearch engine.
Business and leisure travelers both can benefit from the advanced technology which enables booking of aviation, car rentals, cruises, hotels, activities and travel packages on one convenient website.
Whether you are traveling to work or with family, it is possible to rely on Orbitz.
Saving Tip: Download the Orbitz mobile app to check out deals on quickly and move reserve the flights, rental cars, hotels, and more, anytime and from anywhere.
You may even see exclusive economies of up to 50 percent off prices. Download it and start saving.
Clients who reserve flights and hotels suing Travelocity will find deeper savings.
Travelocity offers trips for business with amazing deals on car rentals, cruises, flights, hotels, many local outings, and entertainment. Travelocity gives you ways to save more on their excellent prices.
Along with Orbitz, CheapTickets, Hotwire, and eBookers, it belongs to the firm Expedia Inc.
Frequently Asked Questions
How do I look for a cheap rental car?
Here Are a Few Tips on How Best to save cash when renting a car:
Compare plenty of cheap rental car rates to get the very best price.
Prepay for the car or truck instead of paying at pickup to lock cheaper rates and get the most savings.
Assess the latest car rental prices or find online codes on CarRentals.com's prices page
Place a price drop alert and get an email once the base rate is lowcost. Think about looking for cars in locations for savings. Off-airport rental companies could also provide a shuttle service from the terminal to a location.
Recognize what you require, including the mileage and fuel you'll use and also the size car you want before making a reservation.
Check and compare every cost associated with the leased vehicle, like fees for young or senior drivers, or penalties for including drivers.
Do Car Rental Services Accept Debit?
A few rental companies accept debit cards for reservations, though they could request more identification and proof of insurance once you book. In some cases, you could well not be permitted to lease an automobile if you don't own a credit card. Gift cards, prepaid cards, prepaid cards, and cash are usually not accepted for bookings.
Do I need Insurance?
YES, YES! You need to be insured to be able to drive a rental car. When you've got personal auto insurance, you should check to determine whether it ensures rental vehicles (also be sure to ask if there are any restrictions.
Before you proceed to reserve a rental car, you need to test with your personal vehicle insurance carrier and/or credit card provider. It may be the situation that you insured, which means that you won't need to purchase additional coverage when you rent a car.
Do all rental car companies require a deposit?
Many car rental companies do require a deposit, and deposit amounts will probably differ by company and car class. Luxury rentals may demand a higher deposit than minivans or economy car rentals. Make sure you have a credit card available in the event that you think you'll need to pay for a deposit. Deposit for me is a good guarantee (Uhaul deposits).
Just how old do I have to be to find a rental vehicle?
Generally in many countries, you have to be between 25 and 65 years older to rent cars. You might be able to find affordable car rentals or discounts if you're out of this age range, but you may want to pay for another fee or purchase insurance. It's well worth noting that folks over the age of 70 may be subject to a surcharge. Talk to your car rental corporation, as this can vary.
What sort of car is ideal for me?
That is entirely up to you personally. You need to consider things like your budget, exactly how many people would travel with you personally, and what kind of trip you are taking. These tips will get you started:
Best for lower prices and smaller groups: Toyota Yaris, Ford Fiesta or comparable
Best for Longer day excursions with many more individuals: Fullsize SUV.
Best for sightseers wanting to Absorb the scenery and weather: Chevy Camaro, VW Beetle Convertible, etc.
Best for People who want to keep fuel costs and emissions: Hybrid cars
Tip: Decide whether you wish to rent for a round trip or one-way.
What to AVOID
Wherever you rent, you NEED to take a look at the "terms and conditions" of any rental before you make your final purchase. I have suffered from it in the past, so you shouldn't too. Among the things to avoid:
Best-looking deals that are nonrefundable or entail a stiff cancellation penalty.
Cancellable deals that require upfront payment rather than payment by the end of your leasing.
How to Rent a Car: Best Tips to Save on Car Rental in 2022
There are many tips you probably don't know that can save you a LOT of money if you apply them while renting a car such as joining a car member club or bringing your own car child seat.
This video shows you how to properly rent a car.
Make sure to watch until the end, and your wallet will thank you.
Conclusion
We've covered the best car rental companies in the U.S. and the world, their customer service, reviews, other Frequently Asked Questions.
Remember that it should be affordable (cheap or within your means), a pleasant experience with service, and convenient, regardless of the service used.
I hope you have a pleasant experience booking, and that this post was useful.
Sharing is Caring!!
What do you think about these companies listed?
What is your experience with their service? Was it pleasant or not? Leave a comment below.
Also Read: Geico Insurance Best Review 
Best cheap flights and hotels finder (Free Tool)
Enterprise Rent-A-Car: History, Mission, Best Reviews, Everything you Need to Know
Orbitz Best Review: You need Read This if you plan to use Orbitz
Hotwire Best Guide: Don't Use Hotwire Until You Read This
Google Flights Best Review : To find Cheap Flights, Use This Trick