*We strive to help you make decisions with confidence. This post and site may contain affiliate links, which means we may receive commissions if you purchase through links provided (at No extra cost to you). Our opinions are our own.
Let's talk about the best video editing software in 2021 that are free and paid, and that you can use on Mac and windows. The ideal video editing software is going to be one that will meet your needs, match your skills, and also your experience. Video is not going away anytime soon.
So you need to learn how to produce great quality videos for your business.
In fact, 300 hours of video are uploaded to YouTube every single minute! Almost 5 billion videos are watched on Youtube every single day. on top of that, research proves that video advertising makes up about 80 percent of online traffic.
Whether you work on a desktop or laptop, whether you're a beginner or a professional, you need to find the best video editing software that will create videos to stand out online.
Read this article until the end to find out the best video editing software you can use in 2021.
P.S: This article will be updated every single week and month with new video software. So come back often and check out new software.
Best Video Editing Softwares in 2021 + Free Tools for Mac & Windows
Adobe Premiere Pro CC is really is but one of the greatest video editing software for all professionals using Mac or Windows. Used by professional video and filmmakers, top YouTubers, this editing software has the capacity to personalize videos directly from the mobile or the PC.
It's part of Adobe Creative Cloud Since Adobe has its own website for photos and video stock, you may import stock pictures, videos, and loopholes in almost virtually any format.
It gives a high level of accuracy and control for video syncing and creation, and it's HD video supports 4K, VR, along with 8K formats.
Key Features:
Top choice among video editors
Quick export option
Selective color grading
Automatic edits detection
It has a subscription service that gives you updates every month automatically.
Price
Free trial
Premiere Pro Single App is priced at $20.99/month
Creative Cloud all apps costs $52.99/month
Here is the price grid for most of the software offered by Adobe.
Video Tutorial on How to Use Adobe Premiere Pro CC
[embedyt] https://www.youtube.com/watch?v=PYTPXsMkYDE[/embedyt]
Also Read: 15+ Best Video Editing Apps to Use for iPhone & Android
Final Cut Pro X is highly respected in the industry of video editing. In fact, is one of the best video editing software for Mac users.
It is integrated with Apple's application like iTunes and has so many professional features that are easy to use such as filters, effects, a magnetic timeline, and audio editing capability.
What I also like about this video editing software is that you use keyboard shortcuts to use the 149 video effects, 183 title animation templates, 100 transitions, and 109 audio effects.
Features:
Best for video editing professionals, video editing students.
You can create stunning effects and sweeping graphics with Motion, including studio-quality 2D and 3D. titles
It allows for Multicam video editing.
Supports for Apple's new M1 machines
Allows Professional color grading
Only for Mac users 🙁
Expensive.
Price:
90 day trial period.

Final Cut Pro X is available on Amazon now at $99, from an earlier price off $999
Video Tutorial on How to Use Final Cut Pro X
[embedyt] https://www.youtube.com/watch?v=NPbBDs67aCY[/embedyt]
Corel Video Studio software is perfect for beginners starting with video editing, as you have many options to choose from.
What I like about this software is the very simple visual interface that makes it easy to start editing, and it's very intuitive. Some of its include 4K support, motion tracking, real-time effect, 3D text editing, and more.
With Corel Video Studio you can:
Easily make slideshows
Create movies in just minutes by selecting a template.
You can also record your screen and webcam directly to create a tutorial for example.
Additionally, you can also burn video projects into DVDs by using a customizable menu template.
Perfect for all skill levels, especially beginners.
Edit HD, 4K, or 360 videos on the multi-track timeline with easy to use tools.
More than 2,000 customizable filters, color grading controls, and premium effects.
award-winning software for creativity
Affordable
Price:
90 day trial period.
Premium plan at $299.99
Try Corel Video Studio Ultimate
Video Tutorial on How to Use Corel Video Studio Ultimate
[embedyt] https://www.youtube.com/watch?v=3Pw_7kDYk8Y[/embedyt]
Also Read: 40 Ultimate Apps to Make Money Online
Favorite Business Tools to Start and Grow an Online Business
Filmora is made by Wondershare and is an easy to use video editing software with plenty of effects and resources.
It provides integrated filters, tiles, and effects, particularly for YouTubers. You are able to navigate the music and sound impacts from its library.
Features:
4K support
Good for beginners
Special effects
intuitive object tracking
Split screen
Create custom animations to elevate visual engagement.
Color grading and speed control
Easily share on social media
Windows and Mac downloads
Has a bunch of creative transitions, filters, titles, and motion elements
Keyframing
and more.
Before try, Read about the system requirements.
Price:
Free version but all your videos are watermarked
Filmora Annual: $39.99 /year
Filmora Lifetime $59.99
Filmora Unlimited $99.87
[embedyt] https://www.youtube.com/watch?v=JhShsqHyqFU[/embedyt]
PowerDirector 365 video editing application is known among professional filmmakers for exceptional editing. It provides high-quality features such as multi-cam editing.
It's a somewhat complex tool, therefore it is for advanced and professional video editors.
Professional editing tools and an intuitive user interface
Dynamic Key Frame controllers
360-degree video editing
Many effects including Slow motion, Stop Motion, Freeze Frame, Zoom & Pan etc.
Mask designer to cut and combine images from different clips with great precision.
Customized names for movement images
Cartoon overlay
Fast Colour refinement and correction
A growing collection of animated titles, transitions, color presets, and music.
Custom shape items
Stabilize shaky footage easily.
Can be tough for beginners.
Price:
Download Free
PowerDirector 365 starts at $54.99 annually
PowerDirector 19 Ultra at $99.99 annually
Director Suite 365 starts at $103.99 annually
Try CyberLink PowerDirector 365
Video Tutorial on How to Use CyberLink PowerDirector 365
[embedyt] https://www.youtube.com/watch?v=DKBGuAoLGB4[/embedyt]
Also Read: Favorite Business Tools to Start and Grow an Online Business
Pinnacle Studio is a fast, full-featured, intermediate level video-editing software that allows you to produce great video editing and also screen recording features.
What is great about this software is that supports old video formats like VHS, V8, and other cameras, that can also be converted into digital files.
It provides 360-degree video editing, 100+ of creative effects, overlays, video masking, title editor, and more.
Other Key features:
More than 100 MyDVD menu templates.
Supports color grading and 4K video editing.
Editing across unlimited tracks.
Quickly clone objects and combines clips to reduce editing time.
Improve focus and remove distractions.
It can edit up to 6 cameras.
Motion tracking with blur.
You can create fast or slow-motion effects.
Brighten faces, blur backgrounds, censor license plates, and edit other targeted areas.
Price:
There are three versions of Pinnacle Studio:
Has a free trial
Pinnacle Studio 24: $54.95
Pinnacle Studio 24 Plus: $89.95
Pinnacle Studio 24 Ultimate: $109.95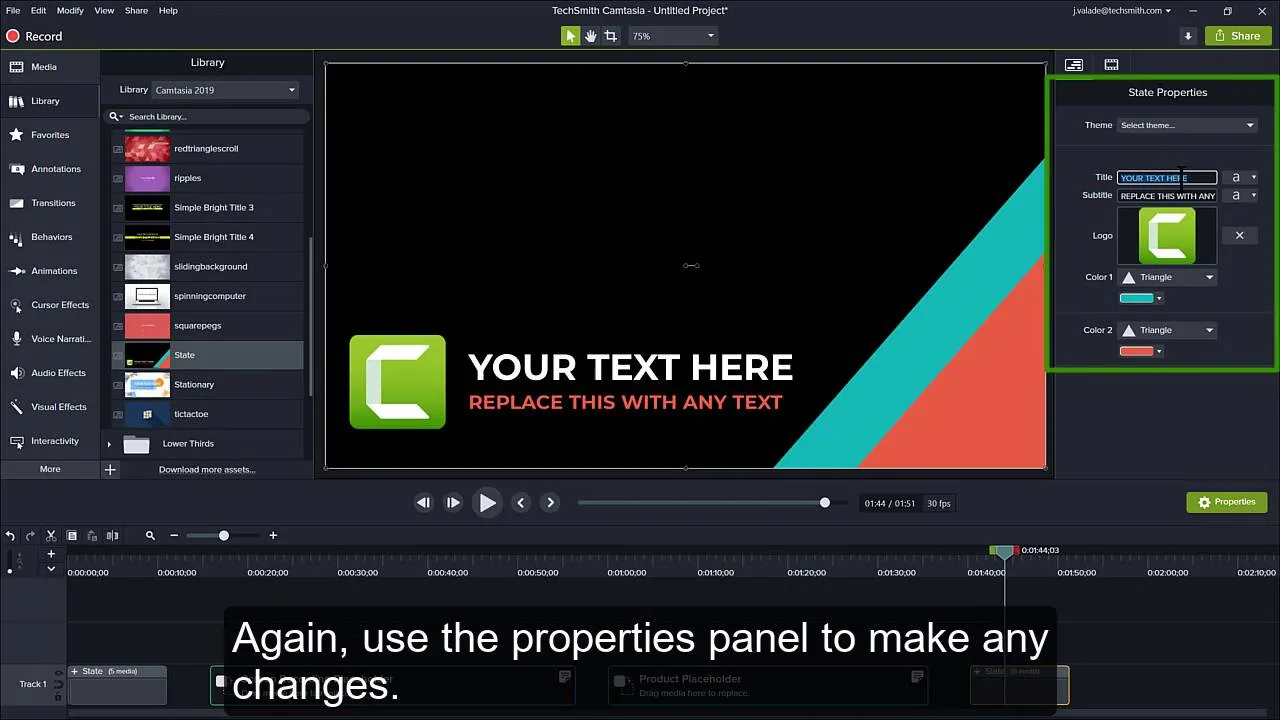 Camtasia is a screen recording and video editing software used by millions of beginners and intermediate video editors. Most people use it to create lessons, informational videos, tutorials, distance education, or product demonstration.
I personally use this software to create videos for my YouTube channel called Freetrepreneurs. I record my screen and then I edit it into Camtasia.
What I like about the software is that it has Multi-Device recording features and exports videos in various output formats. In addition, it allows you to directly export your videos to multiple platforms like Google Drive YouTube, or Vimeo.
I also like the very intuitive interface and the fact that it allows embedding multiple media in the timeline.
It's often compared to more robust software platforms like Final Cut or Adobe Premiere Pro, but it is not super robust in terms of availability of features but it is not basic as well.
Millions of companies and video creators use Camtasia video editing software including Microsoft, Amazon, Google, Pepsi, Best Buy, Walmart, Procter & Gamble, FedEx, and Starbucks among others.
Other Key features:
Has a good set of "library assets" which are templates, images, motion graphics, and audio files.
Supports green screen
Fairly sophisticated effects
Allows you to record mobile devices with ease.
Camtasia offers cursor and clicks tracking and highlighting.
Tracking with blur.
You can create fast or slow-motion effects.
Great training tool
Price:
Has a free trial
Has 30 Day Money Back Guarantee policy
One time price at $249.99
8. Viddyoze
Viddyoze is a recent video editing software that I bought that allows you to create studio-quality intro, to edit videos online, design templates that you want to use in the future, and also add watermarks to your video, and a lot more. It is a cloud-based video editing tool, meaning that you don't need to install anything on your computer.
I use it for my YouTube channel to create the intro trailer.
Here is a video showing some of the samples that Viddyoze offers.
[embedyt] https://www.youtube.com/watch?v=gRzrfnPQwaU[/embedyt]
It is important to understand that Viddyoze does not offer full features other video editing software offers like video capture, speed adjustment, or splitting and merging videos.
It is simply used to create small or short videos that are 2Ds on 3DS and that you can easily share on social platforms either for marketing purposes or branding.
It's now used by 100,000s of businesses, YouTubers, and individuals trying to create quality videos without much complication.
Features:
Viddyoze is extremely easy to use
It offers a large library of animations, logo stingers, outros, live-action animations, social media call-to-actions, and lower thirds that can be customized in a matter of seconds.
Square & Vertical Templates
Background Removal Tool
New Integrations with Pexels, Pixabay, Unsplash
Watermarking animations
Creating up to 10 videos at once
Video scheduling and more.
Price:
There are different versions of Viddyoze:
Has a free trial
30 days money-back guarantee
Lifetime Basic plan: $67 USD and you get about 100 templates.
ViddyozeAgency plan available at $127/user
7 Other Video Editing Software to Check in 2021
Here is a list of some other great video software you can explore:
Conclusion
We just covered the best video editing software you can use in 2021 for beginners or pros and whether you use Windows or Mac. Editing is essentially a way of assembling media to communicate a certain message.
In the digital age, there is plenty of video editing software available that may confuse you.
The choice of the best video editing software depends on you. You need to choose one that makes your work easier and allows you to deliver videos fast.
Sharing is caring, please share this article to help others.
What are your thoughts about this list? Do you have any more suggestions for video editing software you want us to add? Feel free to comment down below
Video Editing Softwares FAQs
What is the best video editing software for Windows 10?
There are two options: CyberLink PowerDirector 365 for advanced, and Adobe PremirePro for all levels.
What is the best video editing software for youtube?
It depends on whether you work on a Mac computer or Windows. If you are on a Mac, I suggest Final Cut Pro X for YouTube or iMovie. If you are on Windows, go for Premiere Pro.
What is the Best video editing software for gamers?
Without a doubt Premiere Pro for its ease of use.
Also Read: 15+ Best Video Editing Apps to Use for iPhone & Android
40 Ultimate Apps to Make Money Online
Favorite Business Tools to Start and Grow an Online Business
Best High paying Affiliate Programs
Ezoic Review & Full Setup, Ezoic Video Player – Best Adsense Alternative 2020
How To Make BIG Money on YouTube | How Much YouTubers Really Make 2021
The 5+ Best Web Hosting Services of 2020 & 2021 (Ranked)