*We strive to help you make decisions with confidence. This post and site may contain affiliate links, which means we may receive commissions if you purchase through links provided (at No extra cost to you). Our opinions are our own.
Ezoic is a FREE monetization platform for publishers that guarantees to increase your website earnings to 50% to 250% with display ads using their powerful AI ad platform.
In nearly EVERY case, the blogs or sites that use Ezoic make significantly more money than other ad networks like Adsense.
In this ultimate Ezoic review of 2022, I will talk about everything you need to know about Ezoic: how to setup Ezoic (with videos), screenshots of how much I've earned so far with Ezoic vs Adsense, how Ezoic Premium work and the new feature Ezoic Video Player to earn more revenue with videos, and much more.
So read until the end and watch the video tutorials. The video tutorial for How to use Ezoic video is toward the end and it's a MUST-WATCH!.
Even better, the odds that your website's visitors will enjoy your site more and stay longer are higher. It's truly a win-win situation for your blog.
If you want to visit Ezoic Homepage to find out more or to sign up for FREE, click HERE.
Ezoic Review, Setup, Ezoic Video Player and My Results
The table of content below is going to help you get to any part of the review you want. I hope the video tutorials help!
What is Ezoic?
Ezoic is an end-to-end platform for bloggers or publishers that leverages true machine learning to streamline monetization, website speed, and analytics.
It offers many FREE features to bloggers to increase their ad revenue.
Below is an in-depth Ezoic review and instructions with videos to setup Ezoic and to do great on the platform.
Ezoic conducted a study in 2019, and found that on average a website using its platform was able to increase their ad revenue by 259% and EPMV (earnings Per 1,000 visitors).
To Download the Ezoic integration guide PDF, click on the Link Below

Click Here to Download PDF Guide

What are Ezoic Requirements:
Ezoic is a Google-certified ad partner, so you need to get approved by Adsense.
If you are BANNED by Adsense, then your best option is Media.net.
Start with Media.net for free by clicking: https://bit.ly/2Nocil8
As of July 2022, Ezoic requirements have drastically changed. Ezoic has REMOVED the  10,000 MONTHLY SESSIONS requirement bloggers needed before getting approved.
So now, the size of your blog traffic does not matter (100 or 1000 visitors per month), you can INSTANTLY get approved, set up, and start monetizing your site with Ezoic.
Here is the original article from Ezoic stating they have removed the requirement.
Ezoic is 1,000 times better than Google Adsense or even Media.net and you will see the difference in Ads revenue the very first day you implement it on your website or blog.
Click below to apply:
How do You Setup Ezoic? (Video Tutorial)
Ezoic is easy to setup. I put together this guide with video tutorials to walk you step by step on How to setup on your webiste.
Ezoic ads are really great for bloggers but you need to know how to set them up properly in order to maximize your Ezoic earnings.
Click on the video to Watch how to setup Ezoic from Start to Finish.
The video above is a full setup video.
In summary, here are the steps to set up:
Step 1: Integrate your site with the nameserver
Step 2: Enable Monetization on  your dashboard
Step 3: Set up Ad Testing by placing a few placeholders.
Step 4: Apply for Google's Ad Exchange with a single click
Step 5: Turn on Ezoic's Ad Tester.
Step 6: Let Ezoic do the Work and Make you Money.
Below is another video setup if you think the video above was not very clear, but the video above should cover everything you need.
What I cover in this Ezoic Review, Setup Guide, and Tutorial above?
1) What is Ezoic? Why use ezoic.com for maximizing Google AdSense revenue as a publisher?
2) My Ezoic Results
3) Ezoic Dashboard Landing.
4) Ezoic Settings & Ezoic Integration via Plugin and Name Servers
5) Criteria to be approved
6) Ezoic Mediation
7) ads.txt file app on Ezoic.com.
8) Ezoic App Installation.
9) Ezoic adstxt app integration.
10) adstxtmanager.com account signup.
11) Ezoic Ad Tester.
12) How to Wrap Existing Ads with Ezoic.
Benefits of Ezoic in 2022
Increased my Blog revenue by 500%. With Adsense I was literally having a RPM (Revenue per 1,000 visitors) at $0.4, but with Ezoic, my current ePMV is $11 (see the difference?).
Ezoic gives you specific control over how ads are displayed on your website and on what pages if you use the plugin "Advanced Ads".
With it, you can actually monetize pages on your website that would typically not be generating no money with Adsense.
Revenue or ePMV with Ezoic will vary by niche, with some making $15 or $30 for every 1,000 visitors.
Ezoic will outperform most ad networks AdSense on your website or even Media.net.
You have full control of how many ads you want to put on your site and where you want them to appear.
Excellent Customer Service: customer service Ezoic is simply one of the best I have ever seen.
Once you are approved, you will get an account manager who will help you throughout the whole process and answer any questions that you may have.
My account manager (Timothy) is just great! He answers all my questions without getting annoyed in a timely manner.
Automated Multivariate Testing: It would be close to impossible for you to manually test and optimize all the combinations of ad placements and layouts on your site, but Ezoic does it at the scale.
Here is an idea of the number of combinations that Ezoic is testing for you AUTOMATICALLY.
For example, if you put only 5 placeholders, Ezoic will perform 3,003 combinations to test optimal placements.
The more placeholders you place, the better.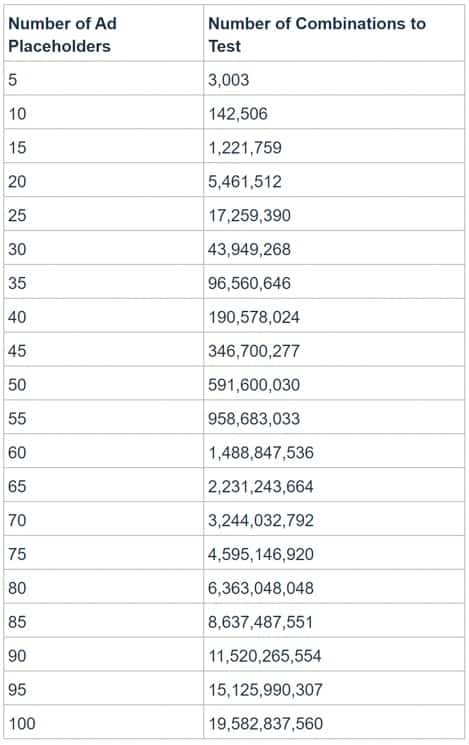 Source: Ezoic.com
How Do you Use Ezoic? How to Maximize your Ezoic Earnings with the Settings
There is a very specific way to use Ezoic in to make good money on it.
I show you in the video below how to maximize your Ezoic Earnings by tweaking settings to triple your Income.
Also, **NEW** is EZOIC VIDEO PLAYER which offers a way to monetize videos for Free like on YouTube.
You need to follow a guide like this to maximize your earnings or you need to let your key account or salesperson at Ezoic do it for you.
After all, they have a ton of experience and they can guide you.
How to Integrate your Site with Ezoic in 2020
There are three integration options: via Ezoic plugin, via name server, and via Cloudflare.
I suggest to integrate it with the name server option, not the plugin.I made that big mistake before and I realized two days ago the benefits of integrating with the name server reading this article. The benefits are for example you can install Ezoic caching plugin, use the Cloudfare which will boost your site speed like CRAZY!!
 Before integrating with the plugin or name server, if you have a caching plugin like WP-Optimize, uninstall it because it's often incompatible with Ezoic since Ezoic already has a caching plugin as well which is supposed to replace the functions of WP-Optimize. So I deactivated my WP optimize and let Ezoic handled it, then I changed my integration method using the name server, and the site went from loading in 10 seconds to loading in 3 seconds. If you use Bluehost, here is how to integrate it with name servers: On your Ezoic Dashboard, go on Settings
Go to Site Integration
Copy the name servers on the right and change your name servers on Bluehost
Open Bluehost Dashboard
Click on DNS > Edit > Custom
Paste your Ezoic Name Servers and Save.
Go back to Ezoic and click "Integration Completed"
That will change the Bluehost Name servers to Ezoic, and voila!
Give it about 10 hours to fully propagate the new server names and you will see the "Integrated" Button on Ezoic.
If your site is not hosted in Bluehost, then in the Name Integration page in Ezoic, click on Video tutorial or Popular Registrars and you will see how to integrate it with other hosts like GoDaddy or SiteGround etc.
Your next job is just to create placeholders and ad them on your site just like I explain in the video above, and let Ezoic quadruple your revenue!
Ezoic Site Speed Accelerator Review
Below is a video review of how I went from 10 seconds to 6 seconds on my website.
I show how I also went 80 to 93 Google PageSpeed Insights Scores by installing the Ezoic Site Speed Accelerator feature and testing it.
You can test your website here: www.gtmetrix.com
The Site Speed Accelerator is FREE to use for any website.
After I made the video, the Ezoic YouTube channel admin commented under the video by saying:
"Great video! Thank you for reviewing the Site Speed Accelerator. The Site Speed Accelerator is free, but there are paid features within the tool. The paid SiteSpeed+ features are marked with an asterisk(*) when you are creating a version in your dashboard. All other features without an asterisk are free." — Ezoic
Click to watch the video!
How My Site Got Faster After using Ezoic Name Servers?
In the video below, I talk about how integrating my site with Ezoic Name Servers Made my Site SUPER FAST, going from loading in 6 seconds to 3 seconds | Ezoic Name Servers Integration.
The most important benefit is your site will get access to Ezoic's Amazon Cloud Servers (AWS) – with 10 data centers around the world to ensure your site can be delivered to your users lightning-fast via the fastest geographic center.
I think that's pretty cool!
FACT: Ezoic's uptime is currently BETTER than Google, Amazon, Apple, and others.
Can you Limit The Number of Ads with Ezoic?
I've heard so many BS saying:
"Ezoic displays too many ads, blah blah blah!!"
Here is the truth:
People don't know how to properly set up the platform.
1. You can control the number of ads that appear on the page by restricting given the length of your content:Under the Monetization tab, you can go to "Max Ads per Page", look at this picture:
 I am able to say, for pages with less than 400 words, don't display no more than 10 ads..If you don't want more than 3 ads, well, you decide.2. Also, If you want 2 ads on your site, simply put two placeholders.3. Also, you can Tell your Ezoic manager, you don't want many ads and he can do it for you. There are just so many possibilities to take control of your site, that many people don't know.4. You can customize the revenue-focused vs user-focused experience by going on the Settings tab and click on "Custom Settings" on Optimization goals:
 If you select revenue, then more ads appear, with user experience focused, fewer ads appear. If your traffic mostly comes from Facebook for example and you don't want to be banned by Facebook, then select user-focused and limit the number of ads per page, simple! 5. Adsense ads slow down your site besides earning less, it's a proven fact.6. If you go for most other platforms like Mediavine, they decide abt how many ads appear on your site, not you.The moment you hand off your site to them, they decide. With Ezoic, you get full control.7. For the DNS you change on your host, it doesn't change anything on your site, most hosting platforms know what Ezoic is.If the company EVER goes down, which is very unlikely, just goes back to your DNS settings and select back Bluehost, simple!
Is Ezoic Better than Adsense? My Ezoic vs Google Adsense Results
Yes, Ezoic is better than Adsense and almost all the publishers that have joined the platform see a dramatic increase in their website revenue.
Ezoic pays you per view while Google Adsense will pay you mostly per clicks, which makes it hard to earn more since not all visitors click on your site.
Here is my Ezoic revenue.
For 9,000 visits, I earned $111 with a high ePMV of $11.
Here is my result with Adsense.
With Adsense, for 11,000 page views, I only had an RPM of $1.45, which generated ONLY $10.
And if you look carefully, you will see that it only happened because people click on the ads, as opposed to Ezoic where they simply need to "View the ads".
It also performs better than Google Adsense because the multivariate testing it will do on your site will run best performing ads at the best places, therefore, increase your revenue.
This video below shows you my Ezoic Results after some months compared to Adsense Earnings and the 500% increase I had in my revenue.
The video is called "Here's Why I will NEVER use Google AdSense again || Ezoic Review"
Ezoic vs Adsense vs Mediavine vs Adthrive: Which Ad Network Pays Better? *Video*
This video reviews the earning potentials of 4 great ad networks for bloggers: Ezoic, Adsense, Adthrive, and Mediavine.
I just watched a nice video from @IncomeSchool YouTube channel talking about which ad network statistically pays the most money to their publishers, and this is a review of that video comparison and my experience with Ezoic.
I also tackle multiple questions about Ezoic:
whether Ezoic approves subdomains
Ezoic Premium on many sites added on Ezoic.
Do you Need Adsense Ezoic?
No. but your content needs to be Adsense compliant because Ezoic is Google Publishing Partner.
So you need to be compliant with Google policies to use Ezoic.
You can apply for Ezoic without being approved by Adsense, but I suggest you get Adsense approved first before using Ezoic (you don't have to).
The benefits of having a Google Adsense account is that you can connect your Ezoic account to your Google Adsense to pull your historical Adsense data.
In addition to that, you will need to apply and be approved for the Google Ad Exchange after your integration with Ezoic to start using Google Ads inventory.
How to get Approved by Adsense Before Applying to Ezoic
In this video, I show you STEP-BY-STEP How to make a Google AdSense account in 2020, place Adsense ads on your website, Tips to get approved FAST by Adsense in 2020 and mistakes to avoid at all costs.
Also, **NEW** is EZOIC VIDEO PLAYER which offers a way to monetize videos for Free like on YouTube without having to meet the YouTube requirements.
This will be the direct Competition to YouTube but Ezoic will not keep a share of your revenue just like Adsense keeps 50%. THIS IS MAJOR!
This new feature Ezoic Video player is the BEST feature you can't find on most ad platforms yet, Ezoic is definitely ahead of the game. That's why you need to start now with Ezoic.
You need to click on this link to access Ezoic, sign up for free, get approved, and use the Ezoic Video feature now.
You need to follow a guide like this to maximize your earnings or you need to let your key account or manager at Ezoic that you need help, and they will assist you or do it for you.
After all, they have a ton of experience and they can guide you.
Don't be afraid to let them know if you want an ad placement or advertiser removed from your site or if you are unhappy with the way the ads are displayed or placed.
There's a ton of settings to tweak and you can quickly get overwhelmed with the many cool features.
How does Ezoic Video Player work? (2022)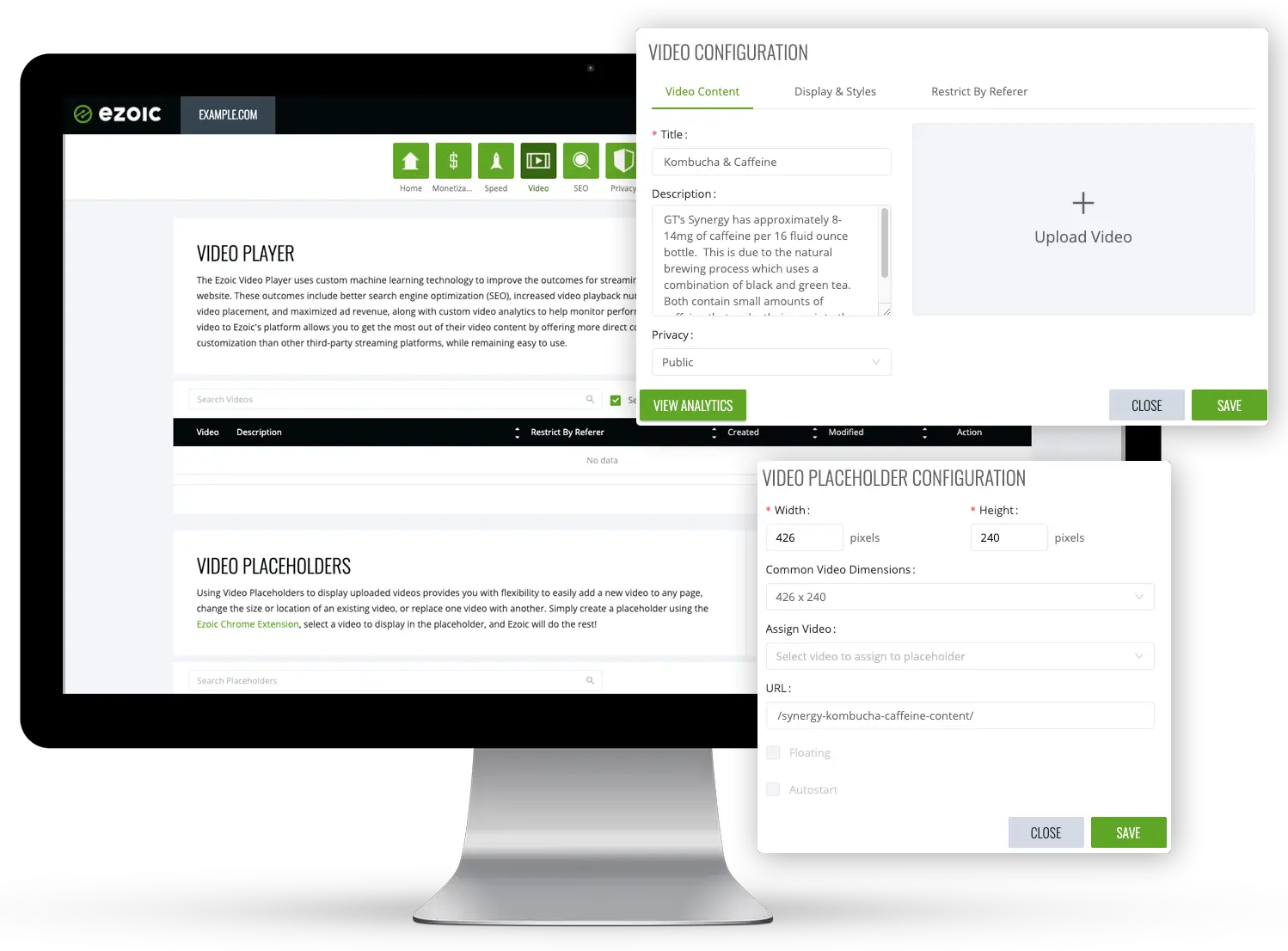 Source: Ezoic
I emailed my Ezoic Manager about the new Ezoic video feature and he said:
"It's some pretty neat stuff that we're rolling out! Ezoic video allows you to upload your own videos onto Ezoic as opposed to another platform like YouTube (where you're restricted to only AdSense ads and they take a much higher revenue cut). 
To my own understanding, we're continuing to develop partnerships with pre-roll video header bidders to help monetize these videos. 
However, most importantly, your videos that show up in Google search will directly take visitors to your website, whereas YouTube videos will direct visitors only to YouTube.
I recommend reaching out to the Publisher Success Team at support.ezoic.com since I believe they are well-versed and part of the beta team for this feature."
On the video player homepage, it says:
"Video ads are powered by Ezoic's artificial intelligence, which learns both when and where the video ads and the video player should appear for each visitor.
 Publishers can set location preferences and goals that balance UX and the revenue they'd like to achieve—Ezoic does the rest."
Even better, the new video player is SEO friendly because Ezoic says that your video will rank in search results, will display ads as people watch them and will also bring traffic directly to your site, as opposed to YouTube.
Here is what they say about the Ezoic video player and video ads: "Ezoic was designed so publishers could inject video on to any pages of their site with relevant videos uploaded to Ezoic. 
Publishers can choose where, how, and what type of videos appear on their pages. 
Ezoic will learn how to adapt to these preferences to generate more website traffic, improve user experiences, and generate more video ad revenue."
For now, it's still in the Beta version, but Ezoic approved publishers can already see it on their dashboard just like you see on my dashboard below.
Look at the feature after Speed, you see a "Video Beta" feature, this appeared a few days ago on my dashboard. I did not even know they were working on it.
So cool!
Here is a screenshot of a video I started monetizing with Ezoic video Player and as you see, I already earned money!
What is crazy is that the video I uploaded what simply a video slideshow of images of men's haircuts that is approximately 1 minute long but it's generating money on automation because the video is set on autoplay when a visitor opens the article.
So a video about building a business, or making money that usually have high CPMs, will earn you a lot more.
You understand that the sky is your limit with Ezoic. Click on the link below to start for FREE.
I just freaking LOVE this platform. It's so ideal for publishers like THE MMS Experience.
Video Tutorial about How to Use Ezoic Video Player
I haven't seen any video tutorial like the one you are about to watch showing you in-depth how Ezoic video player works.
The video below will walk you step-by-step on how to import and setup videos in the Ezoic video Player with my income proof from a video I started monetizing. When you click to watch the video tutorial below, you will actually see a concrete example of an ad that will play before you start watching, and that's how Ezoic will monetize your videos you put in your articles.
Frequently Asked Questions About Ezoic
Here are the most commonly asked questions about Ezoic and here are my answers.
Can I have Adsense Ads and Ezoic Ads on the Same Website?
In the video below I cover that question. You need to be careful in implementing your ads in order to not lose your Adsense account.
READ CAREFULLY: Here is a message I received from an Ezoic Manager about things you should do correctly:
"… You do not know how many ads will show to a visitor – this could result in violating AdSense policy, leading to them banning your account.
Also, and most importantly, the addition of unwrapped ads will prevent the machine learning from optimizing correctly, as it will not see the ads or the data from your AdSense ads.
However, you are right that on some occasions, AdSense can outperform the demand sources (AdX and our other ad network partners) Ezoic provides access to (n.b. Ezoic is NOT an ad network – it facilitates the provision of ads for publishers using our technology.)
Ezoic knows this and wants you to benefit on those occasions, so we have a Mediation App that allows AdSense to compete with Ezoic demand partners. Whichever bids highest, wins.
So – here's the best way to have AdSense and Ezoic demand partners compete for inventory on your site.
 Place AdSense locations like you say in your video – but wrap them in the Ezoic code
Link your AdSense account with Ezoic
Activate Mediation for AdSense ads in your Ezoic dashboard.
This way, AdSense ads will show when they will pay more, and an Ezoic demand partner will show when they outbid AdSense.
This also means the machine learning will see all the data and generate way better results over time!
The great news is this is not restricted to AdSense – you can use mediation on any demand partner you have..."
BOTTOM LINE: Always WRAP Adsense Ads with Ezoic Placeholders.
Is Ezoic Trustworthy?
Yes, Ezoic is trustworthy. The platform has amassed more than 10,000 publishers already, which means a lot of bloggers realize the power of the platform and end up switching over.
EZOIC is an award-winning technology and a Google Certified Publishing Partner, which makes it highly trustworthy.
If you did not know, in 2016, Ezoic won the Google Business Innovation Award for its significant impact on publisher revenue.
The big analytics they offer in a user-friendly platform really helps the publisher to make crucial decisions about the business.
So yes, you can trust Ezoic because there is a new influx of publishers moving to Ezoic from other platforms after realizing the value it offers.
Does Ezoic approve subdomains?
I asked this question to an Ezoic employee in an email exchange after I saw ads on my subdomain I added in Ezoic DNS.
Her answer was:
Yes, these subdomains are reviewed by our Platform Quality team before they can be turned on with our proxy for monetization
If ads are displayed on my subdomain, do I earn money from it?
Yes, the earnings made from this subdomain will be added to your root domain earnings.
How do I see my Subdomain Earnings it on Ezoic?
Unfortunately, there is not a separate window to see this. They are added to your main site earnings. You can see this in your earnings in your Dashboard as the overall earnings.
How Much Does Ezoic Cost?
Ezoic is FREE to use. There no out-of-pocket costs, they do not ask for your credit cards, you do have a contract because the platform pays itself. 
Unlike other platforms where you have to pay to join, with Ezoic, you are free to come and go by turning on and off on your dashboard.
How does Ezoic Premium Work?
Ezoic does offer premium plans only to a small number of publishers that display consistent traffic and revenue.
The idea of the premium is that you have access to a full-featured advanced reporting API that allows you to access all of the functionality of advanced reporting programmatically.
What Plans does Ezoic Premium Offer?
When I was invited and I joined the Ezoicpremium, I saw two plans: Starter and Growth, and each had 3 options.
With Ezoic premium, I pay $22/month in the Elite plan, but I make an extra $40/month at least, which means $18 profits for me.
This happens because I get guaranteed deals with specific advertisers that are interested in my inventory. These guaranteed deals tend to be at very high CPM rates (often above $40 to $50 CPMs) but only on a limited amount of inventory.
Also, as an Ezoic Premium Publisher, your sites data processing and optimization is prioritized, resulting in faster optimization, increased overall revenue performance, and improved user experience metrics.
Here is my premium revenue after I joined.
Note that the reason the premium exists is that Ezoic will invest more resources into finding and activating the best advertisers for your premium site, but, of course, comes at a cost to them, so they need a financial commitment from your part.
But as I said, you don't NEED or HAVE to join the premium version if you don't want to.
The free version is available to you.
How much will my Average Revenue be with Ezoic? (Ad Revenue Index)
Your revenue with Ezoic will greatly vary depending on how the online ad revenue index evolves over time.
Here is a picture of how the ad revenue index looks like.
As you see, online ad revenue and RPMs are usually lower from January to April because most companies pause their advertisements online and restructure their spending budget.
Also, most companies wait until the last quarter of the year to boost ad spending, thus the usually higher ad revenue from October to December.
My Ezoic Monthly Earnings
Below are screenshots of my monthly earnings from Ezoic with my EPMV, so you know how good the platform is.
December 2020 Ezoic Earnings
My traffic decreased in December due a Google algorithm update, that's why my revenue declined. However, the traffic went back up towards the end of December.
In January, expect the revenue to be low because the ad revenue index is seasonal and is usually low during the first quarter of the new year.
November 2020 Ezoic Earnings
October 2020 Ezoic Earnings

September 2020 Ezoic Earnings
August 2020 Ezoic Earnings
July 2020 Ezoic Earnings
June 2020 Ezoic Earnings
Conclusion
If this guide has not convinced you that Ezoic is what you need to join your site as your #1 ad monetization platform, I don't know what will.
If you are on Adthrive, Mediavine or Adsense, you need to switch over to Ezoic now because none of those platforms offers you better features than Ezoic as a publisher. NONE!
Click below to sign up for FREE.

Sign up Now with Ezoic for FREE