Running Facebook Ads is one of the most efficient ways to advertise online. In this guide, I'll walk you through everything you need to know about Facebook advertising in 2022, with video tutorials to help you from planning your very first Facebook ad to advanced marketing methods.
With over 2.7 billion monthly active users as of the second quarter of 2022, Facebook is the biggest social network worldwide ever. This means tremendous opportunities for your business.
Facebook for Business gives you the latest news, advertising tips, best practices, and case studies for using Facebook to meet your business goals.
As a beginner on Facebook, You need a Facebook Business Manager, a Facebook Ads Account before you start creating Facebook ads.
PS: This guide is updated Every Single Week with additional tips, new ad copies, and more to help you rock on FB. So bookmark this page, come back to read or watch more.
Facebook Ads Complete guide: How to Run Profitable Facebook Ads (2022)
How to Create and Setup a Facebook Business Manager
Facebook Business Manager accounts are easy to create make it very easy for you to get access to other Facebook ad accounts. Watch the video tutorial below to understand how to create one.
Create Facebook Business account easy here: https://business.facebook.com/overview
In a business account, you can add other people to your Facebook Pages, Facebook ad accounts, etc., and even partners to help you manage them.
Facebook has made a new update Facebook where they send you to the business suite instead of the Business Manager.
The Business Suite includes tools like posting, messaging, insights, and advertising capabilities. From there, you can access the business manager.
How to Create One or Multiple Facebook Ads Accounts
Your next step is to create one or many Fb Ads accounts.
In the video tutorial, I share with you exactly How to Create A Facebook Ad Account easily! If you are going to be running Facebook ads for your store or product, you need to create a Facebook Ads account, and in this video, I show you exactly how to do it.
You need to set up your Facebook Ad account properly in order to not get disabled or banned.
After creating your ad account, if you want just access the Facebook Ad Manager, open the link: https://www.facebook.com/adsmanager/
Also read: How to recover a disabled or Suspended Facebook Ad Account
The Different Types of Facebook ads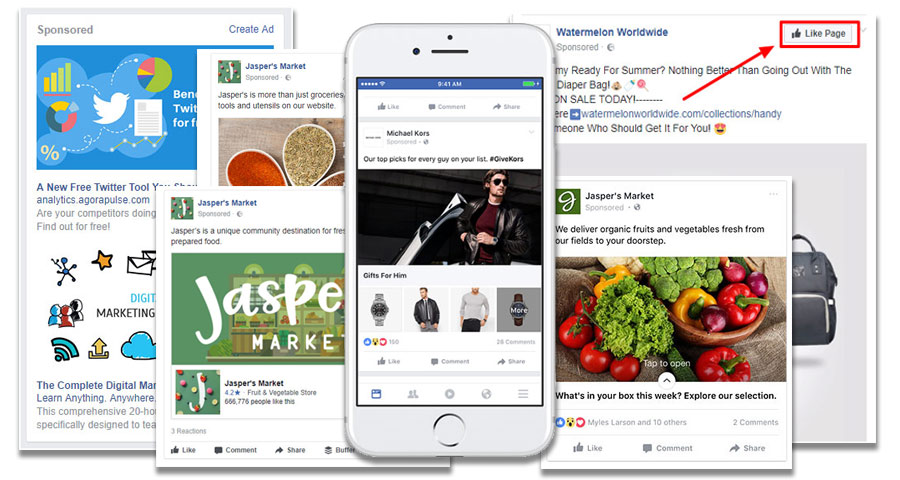 There are many types of Facebook Ads:
Image ads
Video ads
Video poll ads
Carousel ads
Slideshow ads
Collection ads
Instant Experience ads
Lead ads
Dynamic ads
Messenger ads
Facebook Stories ads
Stories augmented reality ads
Playable Facebook ads
Image Ads: When and How to Use Them?
Here are a few instances where you can use photo ads.
If you have to create an advertisement in minutes
By publishing and boosting an image-based post on your Facebook Page, you can create a photo advertisement.
If you want to increase awareness about products.
A photo ad can be a great way to highlight a tangible product or service.
Show others how you use your product.
Facebook ads are often displayed in the feeds of people, alongside posts from family and friends. Show images of people who are benefiting from your product to make ads feel more familiar. If they see how others are using it, and they think it can benefit them, then they will click on the ad.
High-resolution images are recommended.
To create amazing ads, you don't need to be a professional photographer, but you need to pay attention to how large and high-quality the media files are. The pixel is important. If it's blurred, people are not going to click.
Keep in mind that less text is better
Too much copy or text is distracting and can lead to your ad being shown to fewer people. Images that are uncluttered by text have a greater impact, so stick to the most important details.|Just keep it simple.
Try out different formats.
Before you decide to run an ad, experiment with different formats and images. You should also preview the final product in real life before you publish it.
Video Ads: When and How to Use them?
If you are one of the billions of active Facebook users, you may have noticed a sudden surge in videos taking control of your News Feed recently. This content shift, if you're anything like I, enhances your Facebook browsing experience.
This powerful content format is becoming increasingly popular with marketers. They are quick to jump on the video trend in order to provide their viewers with what they need.
The video conversion is more important than creating a strong brand experience. According to Adobe, viewers who watch videos are 1.81X more likely than those who do not.
Video ads can be created in-house by you, or you can work with a videographer.
Why should you use Facebook video ads?
Your Brand will remain in the minds of your customers
The best way to make sure people remember your brand is to use Facebook video ads. Video is not just a popular trend on Facebook. This strategy works to engage website visitors and convert them, to push leads through email marketing campaigns, as well as to drive engagement across multiple social networks like Twitter and LinkedIn.
Video ads are more effective than traditional advertising because they allow marketers to be more expressive and show the brand's personality. They also make it easier for them to connect with viewers emotionally.
Video on Facebook is more engaging than any other content
People love video so they spend more time viewing it and interact with it more than any other medium.
Facebook video posts average engagement rates of 6.13%. This engagement rate is higher than any type of content on Facebook. people viewed videos five times more than static content.
Facebook video ads convert better than other types of ads
Marketers have the best news: Video ads not only attract customers but encourage them to convert better.
Here is a tutorial on How to Create FB video ads.
Several types of video ads
– InStream video ads appear in the middle of another movie.
– Facebook Marketplace Video Ads appear when a user scrolls or shops on Facebook Marketplace.
Facebook Stories ads can be full-screen vertical ads that appear in between organic Facebook Stories. With quick, engaging, and interactive videos on Facebook and Messenger, you can make your business part of the story.
– Facebook Videos Feed ads displayed between organic videos in Facebook Video Feed.
– Carousel Video ads: Ads that contain two or more videos or photos will offer more options for people to see.
– Instant Experiences – Draw your audience in with an instant, high-quality mobile video experience.
– FB Premium Video: Share your videos with the most exclusive content on Facebook Watch.
Tips:
Use  CPM bidding as a way to make sure your ads play automatically.
You need to get straight to the point.
Show videos that do not require sound.
Advertise video content that has been well-received elsewhere.
Learn from and pay attention to your video stats.
Carousel Ads: When and How to use them?
Advertisers can showcase up to 10 images, headlines, and links in a single ad using the carousel format for Facebook, Instagram Messenger, Messenger, and Audience Network. Each link will have its own link.
Kinetic Social data shows that these ads can drive 10x more traffic to advertisers' sites than static posts on Facebook.
Are carousel ads the best choice? When to use them?
You can show multiple products.
Each card should feature a different product that links to its landing page. Increase your customers' choices and increase your click-through rates.
You can highlight one product's features.
To better inform your customers, use each card on the carousel to display different product angles and details.
You want people to engage.
Create a compelling story across cards – the interactive format encourages people to swipe through to find more.
You want to explain the process.
Give your customers a step-by-step tour of how you run your business or product.
Tell a story.
Stories are a great way to share your brand's message and engage with customers. Each card in the ad detailed a feature of each app and gave people an idea of what they can expect from the app.
How to create Carousel Ads: Video Tutorial
What are The Different Goals of a Facebook Campaign?
If you go to the Facebook Ads Manager and try to create a new Facebook ad campaign, the first choice you'll have to make is selecting the campaign objective, so this is very important.
Here are the main business goals of a Facebook campaign:
Brand awareness: that helps to introduce your brand to a new audience.
Reach: the goal is to expose your FB ads to as many people in your audience as possible.
Traffic: here you simply drive traffic to any blog post, web page, app, Facebook Messenger conversation, or shop.
Engagement: it helps you reach a wide audience. With this, you can to increase the number of post engagements or Page Likes, increase the attendance at one of your events, or encourage people to claim a special offer (e.g., 20%OFF in the next 3 days).
App installs: to get people to install your app.
Video views: If you want more people to watch your videos, this is for you.
Lead generation: Leads are crucial to the survival of your business this get new prospects into any sales funnel.
Messages: to motivate people to reach out to your business using Facebook Messenger.
Conversions: Get people to take a specific action on your website (e.g.,Add to Cart or Shop your product/service), with your app, or in Facebook Messenger.
Catalog sales: Connect your Facebook ads to your product catalog to show people ads for the products they are most likely to want to buy.
Store traffic: Drive nearby customers to come in person to any brick-and-mortar stores.
How to Run Successful & Profitable Facebook Ads
OK, suppose you have properly set up your Facebook business manager and Ads account from the videos above, you are eager to run your first profitable Facebook Ads. The video tutorial below will exactly show you that using a very special tool called ConnectExplore, so watch until the end.
This tool made my FB ads so successful and reduced my CPC so much. And what is crazy to me is that not many people are using it.
Try ConnectExplore + a FREE 30-Day ConnectSuite Trial Here
Note that your audience for your ad is SUPER important and can be customized as follows:
Location: either the country, state, city, zip code, or address, and refining even further with a 3-mile radius.
Age
Gender
Languages
Interests – Facebook looks at a person's interests, activity, all the posts and pages they like, and related interests.
Behaviors – Do you want people with purchase behavior and intent
Devices they use and Internet Bandwith (e.g., mobile, WIFI)
Connections – show to those who like your page already or to everyone.
Related post: Audiencer Full Review: Best Tool for FB Ads Targeting (Find hundreds of hidden interest in FB Ads manager)
How to Create and Setup a Facebook Pixel in the Business Manager
Facebook allows you to track online and offline conversions so you can understand the customer journey and increase the effectiveness of your ads that drive sales.
That is where a Facebook Pixel comes in.
The Facebook pixel is a simple code that you place on your website header that collects customers' data and helps you track their actions and conversions from Facebook ads, optimize ads, build targeted audiences for future ads, and remarket them.
You can also use this tracking information to build custom audiences of people who interact with your brand offline, so you can target them even more effectively with future ads.
In the video tutorial below, I show you step-by-step How to create and set up a Facebook pixel like a Pro in a few minutes.
The Facebook Ads Proven Process
A perfect example of great copywriting that is simple and convert well is from Apple.
Take the example of how Apple convinced people into the iPod with one simple line: "1000s of songs in your pocket."
They focused on the customer needs in one single sentence. They put the customer at the center of the product instead of emphasizing on the product features.
Ok, if you do not want to read all of this, and instead want to watch the video comprising all steps you need to take as a complete beginner on FB, here is a 2 Hours video tutorial that will walk you through everything from beginning to end.
You can bookmark this page to come back and learn more.
As you see, I use ConnectExplore to find hidden low competition interests in FB for laser-focused targeting and better ROAS in all my ads.
This is why more than 20,000+ marketers on Facebook are using it.
Try ConnectExplore + a FREE 30-Day ConnectSuite Trial Here
Also Read: ConnectExplore Review: All the Facebook Ads Secrets Revealed 
Audiencer Review: Best Tool for FB Ads Targeting (ConnectExplore Alternative)
Facebook Ad Account Disabled : Here is How to Protect, Recover or Restore your account
The 5+ Best Web Hosting Services (Ranked)
Ezoic Review & Full Setup, Ezoic Video Player – Best Adsense Alternative