*We strive to help you make decisions with confidence. This post and site may contain affiliate links, which means we may receive commissions if you purchase through links provided (at No extra cost to you). Our opinions are our own.
This ultimate guide will show you Step by Step How to Download YouTube Videos in 2022. You will discover 10 proven ways to download YouTube videos online for free effortlessly. You will also download YouTube videos into extensions like MP4, WEBM, AVI, MPEG, and more. YouTube is the most renowned video platform on earth with billions of videos to watch and potentially download.
Actually, more than 30 million people watch 5 billion videos each and every afternoon on YouTube. There are countless hours of videos on YouTube, and the site has become the go-to destination for watching and uploading videos since 2005.
Nevertheless, at times, you want just to have only one of the videos downloaded on your computer or phone so that you can watch it later. The problem with downloading YouTube videos often makes people ask the question: Can I legally download a YouTube video?
If you wish to save lots of videos to watch later, you need to understand just how to download YouTube videos properly.
It is possible to download YouTube videos to formats such as MP4, AVI, MPEG, and much more. Or even in the event that you simply require the sound, then you are able to convert YouTube videos to MP3 files.
Below are all the methods to download or save Youtube videos on your laptop or phone.
How to Download Youtube Videos in 2022 – Ultimate Guide
You can use the table of contents below to go directly to the section you want.
The steps to download YouTube videos are simple and easy to follow.
You can download YouTube videos using a video converter, you can download directly from the browser, using a media player like VLC, you can use a browser extension or add-on, even using a "virtual desktop".
Method 1: How to Download YouTube Videos using VLC Media Player (2022)
You can also download YouTube videos in 2022 and 2022 using the popular media player VLC. VLC Media Player is Free for Windows, Mac-OS, Linux.
The VLC Media Player is really a wonderful tool for Windows users who playback videos. In addition, it has the capability to download YouTube videos in a convoluted manner.
Step 0: Download VLC Media Player. If you don't have the VLC player, you may download it at https://www.videolan.org or click on the link below.
Now, let's download a YouTube video.
Step 1: Go to www.youtube.com, search for the video you want to download using the search bar.
Step 2: Select the video you want to download.  Once you select the video, it should start playing. Simply copy the link in the address bar ( Ctrl+C (PC) or ⌘ Command+C (Mac)).
Step 3: Search for VLC media player on your computer and open it.
Step 4: Click on "Open network stream". This allows you to play content directly from your web browser in VLC player (which makes it easy to download).
There are different steps for macOS & Windows :
On Windows: Click on Media -> Open Network Stream (Ctrl+

N)

MacOS: Click File ->  Open Network.
On a Windows computer.
On a Mac computer.
Step 5: Paste the URL of the YouTube video you copied earlier (for me it's the Cat video). To paste it under "Please enter a network url", press Ctrl+V (PC) or ⌘ Command+V (Mac).
Then you need to press Play (PC) or Open (Mac). This will open the YouTube video in VLC.
On a Windows computer.
On a Mac computer.
If the videos don't play, make sure you update the VLC media player to the latest version of VLC and redo the process again.
Still unable to play YouTube videos?

Go to THIS webpage and copy the text -> paste it into a new Notepad or Text Editor.
Save the file as "youtube.lua"
On Windows, go to "C:\Program Files (x86)\VideoLAN\VLC\lua\playlist" in file explorer.
On Mac, right-click on VLC.app in Applications and select "Show Contents". Go to "/MacOS/share/lua/playlist".
Delete the "youtube.luac" file and replace it with the "youtube.lua" file you saved.
Step 6: After the video starts playing, open its codec information, go to:
On Windows: Tools -> Codec Information
On Mac: Window -> Media Information.
On Mac computer.
Step 7: On the Location field, copy the long URL by double-clicking first to select it, right-click, and then:
Mac: click Open URL.
Windows: click Copy.
On a Mac computer, you will see:
Step 8: Open a new window on your browser, Paste the URL you just copied into the address bar and press↵ Enter
The video will start playing. To save, press Ctrl+S or Right-click on the video playing and select "Save video as…".
On a Mac computer:
Step 9:  Select the location on your computer, rename the video and click on "Save".
Step 10: Go to the folder you saved the video in and you will see the video in the format .MP4
Summary Video tutorial How to download YouTube videos with VLC.
[embedyt] https://www.youtube.com/watch?v=z3ROdb8NatE[/embedyt]
Method 2: Download YouTube Videos Using a Video Downloading Tool
You can use a YouTube downloader to download YouTube videos in 2022 very fast. Be aware that if you're using a downloadable tool, it will require you to download the software and install it on your computer first before you can download videos.
Among the best Downloading Tools/Converters, the ultimate choice is 4K Downloader. With 4K downloader, you can:
Enjoy watching videos anywhere, any time, even when you are offline. Downloading is simple and straightforward: just copy the link from your browser and click 'Paste Link' in the application.
You can download videos from virtually any platform including YouTube, TikTok, Vimeo, Twitter, Twitch, Instagram, and more.
With it, you can even Extract YouTube Subtitles for the videos you have downloaded for over 50 languages, download videos, and playlists in different formats: 720p, 1080p, and 4k.
4K Downloader has Over 2,000,000 Users. Even better, if you give 4K Download a try right now, you get a 14-day money-back guarantee.
Video Tutorial on How to Use 4K Downloader
Below is a video tutorial showing you exactly how to use 4k Downloader to download high-quality YouTube videos. Watch it.
[embedyt] https://www.youtube.com/watch?v=u0PNU92SL_I[/embedyt]
4K Video Downloader is now available on both Windows and Mac users. So download and install it and enjoy free videos.
Solution 2: Download YouTube Videos using Y2Mate 
Although the paid tools usually offer better quality videos, among the free tools, the best option is Y2Mate.
Suppose you want to download any YouTube video, here are the steps:
Step #1: Go to https://www.youtube.com in a web browser on your phone, tablet, or laptop. I like to open it using the Chrome browser, but you can do it using Opera as well.
Step #2: Copy The Youtube video Address Bar URL
or simply right-click ((or tap-and-hold if you are on an iPhone, Android phone, or tablet) on the video and select "Copy video URL" as shown in the picture below.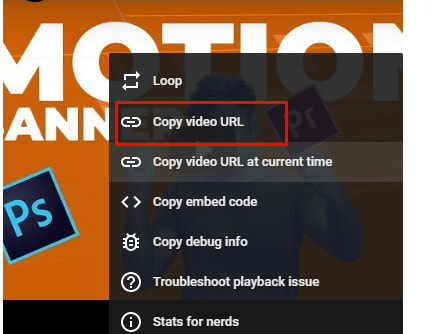 Step #3: Go to https://y2mate.com in your device browser to download videos for free and paste the link. Note that the website has some ads, but do not click on the ads or any software suggested to install, you can safely close them.
Step #4: Pick video Format & Quality.
From my experience, in most websites, after you paste the link and click on Download, you'll get a variety of choices. on the video format you want to download, the quality, and the file size.
Below is an example of how the formats look like with Y2Mate. You have the option for Full HD (very high resolution and large file size) or 3gp (very low resolution and small file size).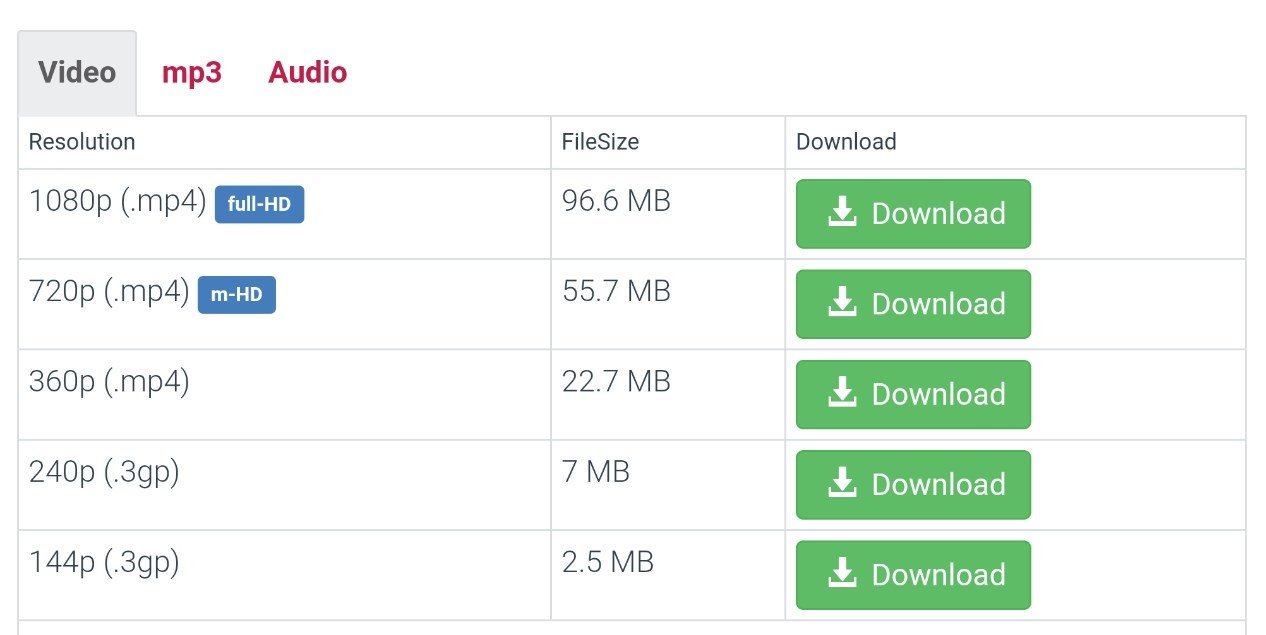 If you have decided on the format you want, click on the "Download" and enjoy it on your iPhone, laptop, or tablet.
Note that the quality options will vary for every video. If the video is very long, let's say 2 hours, you may not be able to download it in HD because it usually requires higher processing times.
Solution 3: Download YouTube Videos using Loader.to
With Loader.to, you can download MP3s, MP4s, and even download entire YouTube playlists in one click.
Their site is smooth, fast, safe, stable, and effective at downloading videos and delivering high-quality formats.
Here are the formats it supports for YouTube download and conversion:
MP3 (audio)
M4A (Audio)
WEBM (Audio)
AAC (Audio)
FLAC (Audio)
OPUS (Audio)
OGG (Audio)
WAV (Audio)
MP4 (360p Video, 480p Video, 720p Video, 1080p Video, 1440p Video)
WEBM (4K Video)and WEBM (8K Video).
Solution 4: Download YouTube Videos using Keepvid
You can easily download online videos using Keepvid, whether the videos are on youtube, Facebook, Twitter, Instagram, Vkontakte, twitch, Vimeo, Dailymotion, periscope, Culturebox, Soundcloud, Vevo, Mixcloud, Imgur, Lynda, ESPN, Apple, crackle, BBC, Gfycat, Reddit, Yahoo, and more.
You can also download audio versions of those videos. All you need is the link of the YouTube video.
Here is how:
Step 1: Open the video and copy the link,
Step 2: Open Keepvid and paste the link into the search box as seen in the picture below. Then Hit "Go".
Step 3: Choose the format and click on Download.
Additionally, instead of pasting the link, you can simply type the words of the video you want. For example: "Best cat videos".
The website will scan for videos across different platforms that satisfy the search intent.
Step 4: Simply select the video.
Note that the website may open a new window. Simply close it and come back to Keepvid.
Step 5: Select the format (audio or video) and click on Download as seen in the picture below.
YTOffline is a YouTube downloader that allows you to download YouTube videos & audio versions on your laptop, phone and tablet.
The format supported are MP4, WEBM, 3GP, and M4A formats.
Some pros are that no additional software or apps are required, 100% safe, Clean clutter-free, which makes downloading videos from YouTube quick and easy.
A con is that sometimes, it opens a new window, which you simply need to close.
Solution 6: YMP4
To use this YMP4, simply copy the link of the video, paste it in the search box of Ymp4 & hit GO.
Next, select the quality and format, press the Download button to save the video as mp4 on your device.
Note: It can also download videos from 500+ websites and social networks like Facebook, Twitter, Periscope, Dailymotion, and Instagram.
This one is a FREE software available for Windows users that allows downloading videos, music, playlists from YouTube, Vimeo, Facebook, TikTok, and 1000+ more sites.
Simply get the link of any video, you want to download, paste it in the box, and hit Download to save the video to your device.
The Free Video Downloader for YouTube comes with no ads or unwanted extra applications – just a clear, simple, and well-designed tool for downloading YouTube videos, playlists, and channels in MP4, WEBM, and MP3 formats as seen on the screenshot above.
It stands out because it has many interesting features:
1. Completely free
2. Easy to use
3. No ads or bundled software (yes, that's true).
4. Allows batch downloading
5. Unlimited number of downloads (no restriction)
6. Fast downloads without trouble
7. You can save a video with the most common quality options and formats, including 4K and Full HD.
8. Downloads whole YouTube playlists in a simple style.
9. Lastly, you have the opportunity to download videos from more than 1000 websites.
Try NOTMP3 Free Video Downloader
Method 2: Download YouTube Videos in 2022 Directly using Savefrom.net
If you don't want to use a downloading tool, you can always save or download a YouTube video directly by following the steps below:
Step 1: Open the video you want on YouTube
Step 2: Add "ss" to the URL of the video in between "www." and "youtube.com." as in the picture below.
Step 3: Press "Enter" on your keyboard and you will be directed to a website called savefrom.net
Please note that if you are in the United States, this method will not work anymore because the website has discontinued its services in the US.
It says:
As you may have heard, our industry has been under strenuous attacks by certain US copyright holders. Because of these attacks, it has become financially impractical for Savefrom to continue to provide services…. Savefrom will be terminating its services in the United States as of April 28, 2020.
So if you are outside the United States, that will work.
Step 4: an alternative will be to install a Free VPN (Virtual Private Network) and change your location or IP address on your browser to be outside the US, and it will work.
As you see below, I live in the US but changed my VPN to Canada and the site still worked. You can change your VPN on Chrome by installing the extension Earth VPN.
After you change your VPN, add "ss" to the URL as outlined above and click Enter. Download your video on your laptop by clicking the 'Download' button and enjoy it.
Method 4: How Do You Download YouTube Videos with Browser Extensions?
Whether you are on Firefox, Chrome, or Opera, there is virtually an extension for anything you want to do.
For Chrome, visit the Chrome Webstore.
For Firefox, visit the Firefox Add-on Store.
Step 1: Open and Install one of the add-on or extensions below.
The best browser extensions to install and download YouTube videos in 2022 are:
Open the extension you want and click on Download/Install or "Add to Chrome".
Step 2: Open the YouTube video you want & Download.
Click on the extension in your browser toolbar, and the video will be downloaded to your computer.
The process is simple whether you are using Chrome or Firefox.
How to Download Your Own YouTube Videos in 2022?
YouTube offers the possibility to legally download your own YouTube videos you uploaded on the platform easily. To download your own videos, here are the steps:
1. Log in to your YouTube Studio dashboard.
2. Click on the "Videos" tab on the left of your screen.
3. Go to the video you want to download and click on the 3 dots next to it as seen in the picture below.
4. Click on "Download" and select the location you want to save your video.
As you can see, it's easy and legal to download your own videos uploaded on YouTube.
Note that you cannot download multiple videos at the same time in the YouTube dashboard, only one at a time.
Video Summary to Download YouTube Videos in 2022
Here is a video summary of the steps to take to safely download a YouTube video in 2022. Click to watch.
There are many options available if you want to download YouTube videos. YouTube Premium is the most simple and straightforward option. But there are also third-party apps that can provide functionality.
MP4 is the most common file format. However, 3GP, AVI, and MOV all offer perks that may be of interest to you, depending on your specific needs.
Frequently Asked Questions about Downloading YouTube Videos
How to Download YouTube Videos in 2022?
Here's how:
1. All you need to do is to open the YouTube video you want to download and copy the link to the video, paste it into the box provided on downloading online sites like YMP4, BitDownloader, 4K Downloader or Y2Mate.
2. Select the quality and file extension of the video (.mp4, .webm, 4K).
3. After you select the format, click on Download or Go. Your video will automatically start downloading and will be saved on your computer or phone gallery.
This method is FREE and works every time.
Is Downloading YouTube Videos Illegal?
YouTube has a fairly straightforward condition of Service that delineates exactly what a viewer can not perform on the platform.
YouTube terms and conditions clearly state:
"You shall not copy, reproduce, distribute, transmit, broadcast, display, sell, license, or otherwise exploit any Content for any other purposes without the prior written consent of YouTube or the respective licensors of the Content."
Downloading videos without any prior consent or attempting to sell them, is considered copyright infringement and a breach of these terms of service.
While downloading YouTube videos may be an illegal criminal action, YouTube has really made no urge to punish users for downloading videos.
If you are simply downloading the video for private or personal usage, it could be viewed as OK.
Downloading videos from YouTube for individual use is something that you ought to do. Remember, stealing videos from YouTube creators is a big NO as they make a living from those videos through ads.
Infringing their Terms and Conditions can land you in serious trouble. But, over all the years, we have not seen any platform show a desire.
YouTube and other video platforms make it easy to share the videos in case that's what you want to do, or even to embed on a website. So use those advantages.
It's legal to download YouTube videos that you have uploaded. You can also legally download videos from YouTube Red or Premium, but it is against their Terms Of Service to use unofficial methods.
What format should I save my Video in?
There are four main video file formats that you can use to download a video: MP4, 3GP, or AVI.
MP4:

MPEG-4  – This video format is also known as MPEG-4. It is the oldest and most widely used.

 

This format is supported on most devices, software, and video players.

 

The best thing about this format is the high quality and small size.

AVI:

This video file format has a smaller compression rate than MOV or MP4. It creates a large file.

 

The option to make the video lossless is also available.

 

This allows for consistent high-quality video and eliminates the need to use codecs.

3GP:

This media format helps to reduce disk space, bandwidth and data use.

 

It is the reason 3GP is so often created from mobile devices and then transferred between them.

 

It is used to send MMS or MBMS messages.

MOV:

Apple designed this file format to work with QuickTime.

 

It can contain audio files with subtitles, timecodes, and other information.

 

MOV takes up significantly more space because it is a very high-quality format.
What Criteria Should I Consider in A YouTube Downloading Tool When Downloading YouTube videos?
Here are some things to bear in mind when looking for a high-quality downloader for YouTube videos
Quality of this Video: The converted video should be able to be downloaded at high resolution. It might vary from low to moderate-high but it's better when you can choose the video resolution such as 360p, 720p, 1080p, 4K or Full HD.
Subtitles: We like it when videos come in various languages because we may want to learn the language or understand better.
Batch Downloading: it should offer you the ability to download multiple videos at a time or even a playlist.
Multiple Format Compatibility: When you have a downloader that gives you the ability to download the videos in formats such as MP3, MP4, FLAC, or AAC, it gives you flexibility.
Built-in Video Editor: A tool should be able to allow you to edit some parts of the video, or choose to edit a particular part of a picture.
Can you download videos directly from YouTube?
No. The YouTube interface offers no way to directly download a video on the watch page for free. You need to use a third-party service or extensions.
If you apply the methods 2 and 4 I showed you above, using Savefromnet.com or OneClick Downloader, you can easily download videos.
Additionally, a more direct way to download YouTube videos is to get a YouTube subscription service or YouTube premium, which is around $11.99/month.
Why can't I download YouTube videos anymore?
Because YouTube wants its users to have some loyalty to the platform and stay as long as possible on it, that's how it makes revenue. When you download a video and start watching offline, you get away from the platform and it causes a revenue decline.
It's why YouTube's Terms and Conditions do not allow users to download any videos from YouTube unless you are using YouTube Premium (paid subscription).
What is the safest YouTube downloader?
The safest YouTube downloaders are 4k Downloader and y2Mate. I pick those two because they offer high-quality videos with no spam on their platforms. An alternative app to 4K Downloader is Videoder.
My #1 Final Recommendation
I recommend 4K Downloader to download YouTube videos as the software makes it SUPER easy to do so and you get crispy clear high-quality videos.
You can download videos from virtually any platform including YouTube, TikTok, Vimeo, Twitter, Twitch, Instagram, and more.
Conclusion
We just covered the best Free and Paid ways to download YouTube videos in  2022. Among all the methods, using VLC media player is my favorite because it's completely free and other favorite tools include 4K Download is my favorite because of its versatility,  the video quality, the ability to grab all the subtitles, in whatever language you want, convert to MP3, and more.
After downloading your YouTube videos, you access them anytime on your device, even if you don't have an Internet connection.
Have you ever downloaded YouTube videos? Which tool or extension do you use? Leave a comment below!
Also Read: 
How to Contact Amazon Customer Service: Phone, Live chat, Email, Social Media
The #1 Facebook Ads Secret for Profitable Marketing campaigns
Ezoic Review & Full Setup, Ezoic Video Player – Best Adsense Alternative 
The 5+ Best Web Hosting Services of all time (Ranked)
How to Start a Blog Full Guide
Read 40 Ultimate Apps to Make Money Online
Absolute Best Ways to Monetize Your Blog or Website
How to Make Money on TikTok (Best Videos)