*We strive to help you make decisions with confidence. This post and site may contain affiliate links, which means we may receive commissions if you purchase through links provided (at No extra cost to you). Our opinions are our own.
In this article, I'll show you EXACTLY with video tutorials on how to rank higher on Google.
Matter of fact, I've used this ultimate process to rank #1 in Google for a keyword like "Article Forge Crack".
Ranking number one for one keyword feels good, but ranking like that for 100s of keywords is even better. You may ask: "How does he do it?"
Ranking well on Google is not rocket science. There are a set of principles you need to follow. This is why I created this post, to show you step by step how to rank on first page in Google, even for competitive keywords.
Google has made a MAJOR change to its algorithm for 2021, and you need to know the Google ranking factors for 2021 if you don't want to be affected by this newest Google algorithm update.
Spoiler alert; the metrics focus a lot more on "USER Experience or page experience".
PS: This article will be updated every month, so come back for more insights on how to rank higher on Google.
Let's get into the most important part of this article.
How to Rank Higher on Google in 2021 (Ultimate Guide)
So here are my steps to rank well on Google:
If you don't want to read the whole article, I made this video yesterday to summarize all new ranking factors and how I am able to rank for many keywords, and how you can too, if you follow the steps.
You can watch the video below.
Related: SEO For Beginners: Best SEO Tutorial to Rank Higher on Google
Step #1: Do Excellent Keyword Research
Keyword research is the backbone of your blog success in the early days when your website still does not have any authority. Keyword research is usually the first step of any SEO campaign.
Honestly, you won't get far with your blog or online business without understanding how this works. This is why I have it in step 1.
When you're about to write a blog post you need to find the appropriate keywords with a reasonable search volume, meaning a mixture of long-tail keywords and short-tail keywords that have low competition but a high search volume. 
In this video below, I show you exactly how you can perform keyword research before starting writing your article and find a huge amount of keywords to write on. 
I also show you free tools you can use to perform this.
So watch this video Until the End and you will change the way you write your articles.
There are 4 FREE tools mentioned throughout the video for your Clean SEO Strategy:
1. Rank Math SEO plugin to get 100/100 SEO score
2. Keywords Everywhere Chrome Extension to get relevant keyword suggestion
3. Google Keyword Planner to organize Keyword Research Extremely Fast
4. UberSuggest of Neil Patel
My process of keyword research has done great so far on this blog as you can see below.
I have a 130% increase in page views from the month before as well as in the number of sessions and visitors. And the traffic keeps increasing with the largest decrease in bounce rate I have ever seen for a relatively new blog.
Related: How to START A BLOG (Ultimate Beginners Guide)
Step #2: Improve Your On-Site SEO
If your site is not optimized well for SEO, you will not rank higher on Google. I can guarantee it.
In the video above, besides showing how to perform keyword research using free tools like "Keyword Everywhere", I show you how to optimize your articles to get 100/100 SEO Score using RankMath free plugin.
In fact, most of my articles I write on this site have an average of 94% SEO score. I already made an SEO video tutorial on my YouTube channel that shows you the process.
After I apply the steps I show in the tutorial, here is how my traffic has increased over time.
You see the upward trend, this is what you want to see for your site.
And the reality is that On-Page SEO is one of the FASTEST ways, if not the fastest way to improve your Google rankings organically.
Step #3: Publish Extremely Good or Very High-Quality Content
I won't tell you that there is a very specific length of the content that you need to write like 4,000 words or 1,000 words, but I can assure you that if you want to rank well on Google in 2021, you need to write insanely good high-quality content.
Most results on first page for most keywords on Google have at least 1,000 + words. This is a sign you should emphasize on long-form quality content when it fits.
And that content should the type of content so good that people can't help but share on social media with their friends or followers and link back to.
BEWARE: Do not just stuff keywords into the Articles just to make the article long because Google algorithm has gotten so smarter that it can detect and actually punish your site instead.
You need to inspire yourself from other results that rank already on the first page and write better and longer-form content in those and overtime Google will reward you by ranking you higher.
As Google wrote:
We look for sites that many users seem to value for similar queries. For example, if other prominent websites link to the page (what is known as PageRank), that has proven to be a good sign that the information is well trusted. Aggregated feedback from our Search quality evaluation process is used to further refine how our systems discern the quality of information.
So you need to focus on providing the highest value possible to the end-user.
Related: Article Forge 2.0 Video Review: Urgent Message for Bloggers (SEO)
Step #4: Improve User Experience Metrics
I mentioned in the introduction that Google is changing in 2021 some ranking factors in the algorithm. This is not surprising since Moz estimates that there are 500 to 600 changes per year.
The main focus to rank well in Google in 2021 will be user experience or page experience because when ranking pages in results, Google Search also evaluates whether webpages are easy to use.
In fact, optimizing for the quality of user experience is key to the long-term success of any site on the web.
Google has recently released what we call "web vitals".  In his own words, an engineer at Google wrote:
"Web Vitals is an initiative by Google to provide unified guidance for quality signals that are essential to delivering a great user experience on the web… Site owners should not have to be performance gurus in order to understand the quality of experience they are delivering to their users.

Core Web Vitals are the subset of Web Vitals that apply to all web pages, should be measured by all site owners, and will be surfaced across all Google tools.

Each of the Core Web Vitals represents a distinct facet of the user experience, is measurable in the field, and reflects the real-world experience of a critical user-centric outcome." — Philip Walton, Engineer at Google working on the Web Platform
To determine your score, they use the Lighthouse Score calculator.
Those core web vitals are mainly focused on site loading, interactivity, and visual stability of the content, and  uses the following metrics:
This is one of three metrics in Google's new Core Web Vitals initiative. Beyond being a new indicator of user experience, Google will also start using Largest Contentful Paint as one of its SEO ranking factors starting in 2021.
Instead of measuring your entire website's load time like Gtmetrix, Largest Contentful Paint measures how long it takes your most meaningful content to load (e.g., the first H2 title of the first large image on your site).
Google suggests that your LCP should be displayed within the first 2.5 seconds of when your site first starts loading. in order to provide a good user experience.
So going into 2021, websites that take too long to load will start to see their ranking decrease because Google will stop pushing up sites whose LCPs fall within the 2.5 seconds range.
This is why having a good host and a good caching plugin like WP-Optimize helps improve loading time.
To test your site speed and LCP, go on Google Page Speed Insights, and paste the link of the article, then search and you will how long it takes your page to load.
If you want to learn how to fix your LCP, read this good article.
The FID measures how long it takes from when a visitor first interacts with your site, such as clicking on an internal link, to when the browser is actually able to respond to that interaction.
It's a measure of interactivity, the delay between when you click or tap on something like a link, and the time that a browser like Chrome responds to your request and starts processing it. 
Google suggests that good FID should be less than 100 milliseconds.
To improve this metric, you need to implement some of the best practices like minifying and compressing your files or removing unused CSS code, async or defer JS Code, and using lazy load images.
A plugin I highly recommend is "Asset Cleanup" which does most of these for you.
Also, I show you in this tutorial below how to make your site faster and use Asset Cleanup, so watch until the end as well.
I show you in the video:
How to Speed up Your Website – Intro, Importance & Overview
how to control the elements that are loaded on the website
Solve the "Leverage Browser Caching" Problem
How to optimize your pictures on your website, Add caching to your site
How to get resized pictures using Google PageSpeed Insights
In summary, you need to minimize how much data needs to be post-processed to serve the user.
The CLS measures visual stability or the significance of unexpected layout shifts on a page.
When a visitor opens a page, if there are unexpected shifting of web page elements while the page is still downloading, it provides a poor user-experience.
Some items that tend to cause shift are pictures, videos, forms, fonts, buttons, etc.
Google recommends that your articles should maintain a CLS of less than 0.1 to provide a good user experience.
Here are some tips to fix the layout shifts :
Currently, here is my result when I evaluate a page on a Fashion site I own using Google Page Speed Insights.
As you see, I have lots of work to do on that other site.
Also, you can see in your Google Webmasters report on how "poor your URLs" are using this new metric.
You can see that I have 71 URLs that have the problem of the LCP taking longer than 4 seconds to show.
When you click on that for more info, it shows you the list of URLs in question.
From here you click on Page Speed Insights next to each link and it will test the core web vitals and tell you what you need to improve on.
Related: SEO For Beginners: Best SEO Tutorial to Rank Higher on Google
How to START A BLOG (Ultimate Beginners Guide)
Step #5: Make Sure your website is mobile-friendly
Here is a reality: Most people are now using their mobile phones to search for something on the Internet rather than the desktop or the tablet.
In fact, the volume of keyword research on mobile has become higher than on desktop. The exact number is about 60% of searches occurring on a mobile device, and the crazy part is that this number is growing.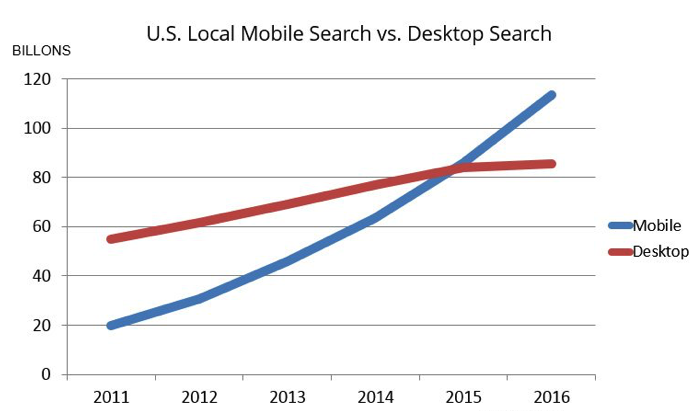 How to Test if Your Site is Mobile Friendly?
Use the Google's Mobile-Friendly Test. It offers a simple way to help you determine if your site is mobile-friendly or not.
When you open the site, just type in your domain or article URL and click "RUN TEST."  and you will see.
The picture above shows you a clear example of what and what not to do.
Also, Google's Search Console also has a Mobile Usability Report that will give you a list of issues your site has on mobile if there are any.
I personally use the free theme "OceanWP" on WordPress, which is highly responsive and provide mobile-friendly pages.
Bonus Tips on How to Rank Higher on Google
Here are some useful tips to rank higher on Google in 2021:
1. Publish Visual Content
Visual content makes happy visitors. This includes infographics (used in Pinterest), maps, flowcharts, and especially videos which tend to keep users longer on site.
2. Build Backlinks to Your Site the Right Way
I personally do not attempt any link-building method like asking for guest posting on other sites or begging to link to my site. I let my users share and link the content they find useful.
If you want to pursue the link-building route, I made this video tutorial explaining all the link-building strategies and how you can do it efficiently and organically.
Here are the 6 Methods I document in the video to get powerful backlinks:
▶ Link Building #1: Broken Link Strategy. You basically use the plugin "Check My Links" free chrome extension to check broken links on websites and then use the email templates I show to add your links on other sites.
▶ Link building #2: Link Round-Up. this is another easy way to get links for free under the condition that you provide quality content in a niche and reach out to the blog owner to ask to include your post in the roundup list.
▶ Link Building #3: Using Emperor Link. A platform that automates all your backlinks for your website.
You provide the keywords, and it boosts the authority of your site by automatically and smartly embedding your blog posts in a non-spammy way across the web.
The disadvantage of this is that once Google updates its algorithm and catches the fact that you automated your backlinks, they will PUNISH your website!
So beware!
▶ Link building #4: Commenting under other Blog popular posts in your niche. This is an old strategy most beginners use.
▶ Link building #5: Install Free tools & Calculators on Your Site. Free tools like a horoscope teller or a mortgage calculator easily make people share your page or post and want to come back to use the free tool.
If you are a finance website, for example, go on Google and search "Free mortgage calculators with scripts for websites".
You will find that some companies offer you tools you can incorporate on your site for free.
Get the script or plugin and insert the tool on your site and your visitors will come back regularly so that they can use that calculator.
A concrete example is Neil Patel with tools like Ubersuggest, a keyword research tool, and competitor analysis.
The number of users going back to his site just to use the tool is in the millions.
▶ Link building #6: Write Amazing, informative Long-form content and Google will reward you. This is honestly MY MOST RECOMMENDED Method, as it aims for the long-term.
3. Make Your Website Fast and Reduce Your Bounce Rate
Making your site is important, not just to you but to your users.
Faster sites create happy visitors and Google has seen in their internal studies that when a site loads or responds slowly, visitors bounce quicker.
But faster sites don't just improve the user experience that's why Google places A LOT of value on site speed, and that's why they've decided to take site speed into account in their search rankings.
4. Improve Your Click-Through-Rate
The more people click on your site in the results from impressions, the higher you will rank. Google uses click-through-rate in their algorithm.
Here is how it works: Even if you rank on the first page on Google, that's awesome. But even high rankings don't guarantee searchers will click to visit your site.
the higher your organic CTR, the higher you'll rank because a high CTR tells Google that your article is what people searching are looking for.
It only makes sense that Google promotes your page higher to make it easier for searchers to find you.
Some ways to increase your CTRs are :
Use Emotional Titles: Example is "These are the Trendy Hairstyles of 2021 You Want to Know", "10 Steps to Successfully Find a Job at Amazon".
Use Short, Descriptive URLs that contain your keyword of interest. Note that your URL does NOT have to be the same as your title.
Add numbers to your Titles: People love to read things like "Top 10" or "10 Best". Most posts are shared wildly on social because they have a definite number.
Two last tips: Space your article well using a readable font and typography, and use H1 and H2 title tags.
Related: Wordai Review: the Best & Fastest Article Spinner
Conclusion
We have just covered the steps you need to take to rank higher on Google in 2021 or to get higher google rankings.
Although it gets harder and harder to rank number one on Google every year with major changes in the algorithm if you follow the steps I show in this article and if you watch all the videos you will realize that this is not rocket science.
There are some key steps that will help your site to consistently perform well.
You can rank for a lot of keywords if you apply all the tips carefully.
Once you find a strategy that works for you, repeat, and I guarantee you'll rank on the first page of Google search results while avoiding penalties from further algorithm updates.
Above all, write your post having the user experience in mind.
I hope you enjoyed this step-by-step guide to ranking higher in Google in 2021.
Now I'd like to hear what you have to say:
Which step from this article are you going to try first? Comment your thoughts below.
Ranking on Google FAQs
Here are some of the most asked questions about ranking on Google and my answers:
Can you pay google to rank higher?
No. You cannot directly pay people Google or people working at Google to rank your site higher. However, you can do Google ads where you promote your articles or website in exchange of money and Google will display your article on the first page.
Note that this is not organic, so the moment you stop paying for Google ads, your site stops being shown to people searching. You may see an increase in ranking after doing Google ads (I did for some product reviews).
How to Rank quickly on Google?
You need to be patient. Most tricks to force Google rankings QUICKLY will get you penalized in the long run. If you write insanely good content and you let Google trust your site and your articles, you will rank fast.
After that trust has been established, and you have gained authority, sometimes it takes only a few hours for your new post to rank.
Another tip is to focus on low competition long-tail keywords. Those rank quicker than competitive ones.
What are the Google algorithm Factors?
There a long list of factors Google takes into account when ranking websites. The factors include the number of backlinks (referring sites), domain age, HTML tags, user behavior (e.g., bounce rate),  Structured data, Mobile optimization or friendliness, and more recently Core Web Vitals (LCP, FID, CLS).
How to Get Top in Google Search Results?
Google evaluates your site expertise, authoritativeness, and trustworthiness on a given topic. So to rank first on top of the search results, you need to demonstrate more expertise in your content than any other website on earth in a manner that the user will find understandable and pleasant.
Also Read: SEO For Beginners: Best SEO Tutorial to Rank Higher on Google
How to START A BLOG (Ultimate Beginners Guide)
Article Forge 2.0 Video Review: Urgent Message for Bloggers (SEO)
Wordai Review: the Best & Fastest Article Spinner
The 20 Must-Read Business & Entrepreneurship Articles
The 5+ Best Web Hosting Services (Ranked)
Ezoic Review & Full Setup, Ezoic Video Player – Best Adsense Alternative 2020
Google Search Console Best Guide: With Video Tutorials