*We strive to help you make decisions with confidence. This post and site may contain affiliate links, which means we may receive commissions if you purchase through links provided (at No extra cost to you). Our opinions are our own.
Are you wondering how to start a blog in 2022 and make money online? Or, have you been thinking about it but you don't know how to start your blog in 2022? If you properly want to start a blog, then I put together this easy-to-follow guide about the best way best to get started blogging in 2022 and make money as a beginner.
I've made this simple step-by-step guide for beginners who are looking to launch their blog and start running it as a business.
Blogging is changing my life slowly but surely and I am earning good money per month from my 3 blogs doing something I love. Bloggers in earn money via multiple ways including display ads, affiliate marketing, selling your own products/services and partnerships/sponsors.
Today, it is really easy to start a blog for just a few dollars. All my websites are hosted on Bluehost, and if you start your blog using the link below, you will be able to start a blog for very inexpensive.
Go here in order to start a blog on WordPress, then make good use of the tutorial below to find the easy instructions and get your blog up and ready.
Additionally, I will show you videos of the right plugins to install and the methods I use to make money with my blog.
Starting a blog is easy but making big money from your blog takes a great deal of work, however, the payoff can be probably the largest if you do it the right way.
The best thing about blogging is that it is one of the most passive ways to make money online. There are a lot of successful bloggers who make money, and some even earn their full-time income from blogs.
If you are trying to start a WordPress blog for very cheap, I suggest choosing Bluehost for the hosting. Bluehost is in my opinion the BEST hosting and I personally have had a wonderful experience hosting all my 8 websites.
Their customer service is up 24h/7 days and has helped me with countless issues.
How to Start a Blog in 2022 (Summary)
Here are the summary steps to start a blog in 2022 and make money:
1. Pick a suitable niche of what you want to blog about (e.g., finance, health & fitness, camping, home furniture, travel, food, fashion, lifestyle, technology, etc…).
3. Pick your blogging platform (I always suggest WordPress).
4. Find your unique domain name & create your WordPress blog.
5. Design your website with a beautiful theme (read the Best WordPress Themes).
6. Install the important blogging plugins to find your readers and track stats.
6. Start writing unique and high-quality blog posts that are helpful to your audience.
7. Work on Search Engine Optimization to rank higher on Google and drive organic traffic.
7. Monetize your site with ads and affiliate marketing!
PS: This guide is updated monthly, so come back and get new tips on how to start & run a successful blog.
Why Start a Blog?
I started my first blog three years ago while I was working full-time for a powerful organization. Currently, it's not a full-time occupation but in a few months or next year, I will earn enough money to probably just focus on that.
The benefit of making money while blogging full-time is that it gives you a flexible schedule. You can travel as much as you want and you will just need your laptop and an internet connection to get work done.
How much you can make? You can make as much as you want. Many bloggers like Sarah Titus or Pat Flynn earn $100,000/month. It all depends on the effort and patience you have.
You can start a blog for multiple reasons:
Pay off your car and avoid car payments.
Quit your 9 to 5 job and become independent.
Make enough money to take care of your mom or your family.
Get noticed and partner with big companies around the world.
Pay off thousands of dollars of student debt and have enough left to take care of yourself.
Build extra skills to separate yourself from the competition when looking for a job, etc…
Or simply inspire other people around the world.
Why Do I pick Bluehost?
With their system tailormade for WordPress, you can create any type of website. In fact, they power more than two million websites.
It's as simple as:
Register
Choose your domain
Use the one-click setup WordPress
Install a theme
choose your niche and ideas to write
Populate your website with articles
Monetize your traffic.
They have a 99.99% uptime, super high, which makes them an incredibly reliable choice; your site speed will not be a problem.
1. Step1: Set Up Your Blog or Website on Bluehost and Install WordPress
Here is a summary of things you can do save a lot while starting with Bluehost:
Click

here

to access Bluehost.com and click Get Started
Select the plan you desire ($2.95/month will be lowest priced )
Either enter a new domain name or the one you already have.
Enter your account info, accounts plan, and card details.
Just uncheck the Add Ons Sitelock Security along with Codeguard Basic
Click Submit and you are all good to go!
I suggest that you begin with their Basic Plan for $2.95per month (63% off their normal price using the link below).
Pick the 36 months (3 years) that will save huge money.
Complete purchase at checkout: $106.20
You Save: $181.44
1. Go to the Bluehost website and click on "Get Started" to select your plan
If you are just starting, you really only need the $3.95 a month option but the $5.95 gives you so many more options (e.g., creating unlimited free subdomains or free websites) for just two dollars more.
I suggest any plan that gives you "UNLIMITED DOMAINS" as you can create as many websites for different niches for free.
Anybody can earn money with a blog, also I managed to make the money back I paid for blog hosting quickly via monetizing my website.
Bluehost is among the best web hosting businesses in 2020. It's cheap and you may save yourself a great deal of money in the long-term.
It's exceptionally inexpensive with Bluehost and you receive a completely free domain name for your first year with them.
3. Choose a Smart blog name/domain
Your domain name is your identity, and you should be careful in choosing a domain name. If you don't have a domain name, enter a unique domain name on the box "Create a new domain".
For example, this one is called "themmsexperience.com" whose meaning is "The Millionaire Mentors for Success".
Here is what you should think about when picking your domain:
It should be short (e.g., amazon.com, apple.com, uber.com)
Catchy, simple and memorable
It has to mean something to readers and has to be shareable.
If you are having a hard time coming up with a unique name, simply use the tool below to check whether the domain name is available.
If your domain name is available, then secure it now by following the steps below.
If you cannot pick right away, do not worry, sit down, and think carefully. You can click on "I'll create my domain later".
If you have a domain name already, just insert it into "Use a domain of your own" and continue.
4. Enter your account information and Click on Submit
Then make sure to select the 12 or 24 months options and activate domain privacy.
If you do not select domain privacy, your email will be public and you will receive spam emails.
After you are done, enter your Payment info and click "Submit".
5. Create a password.
After you click on submit, you will be prompted for upgrades and new deals. You don't have to accept them.
NOTE: Once you complete the purchase, you will need to pick a password that you will remember since this will allow you to log into your account.
6. Design your website.
I love designing websites, and my favorite themes are here: Best WordPress Themes for Blogs & Business
First login into your account using the password created.
Next Step is to click on "My Sites"
Then click on "Create Site"
Bluehost has changed the platform and allows you to use WordPress to design or another platform. Just choose WordPress.
Then give your blog a name and a tagline.
Select the domain where you want to install WordPress and click "Next" and WordPress will be installed on the website.
After that, log in to your WordPress dashboard and that's it for setting up your blog!
After login in and installing the OceanWp Theme and the necessary plugins, you can "Publish your blog Live".
Congratulations! You officially have a blog up and ready to make money!
A complete free theme is OceanWP, but some bloggers also like themes like Foodie Pro, Elegant Themes, Divi or 17 Avenue Themes because they are sleek, elegant and simple to use.
Next, you can start writing your first blog post by going to: Posts > Add New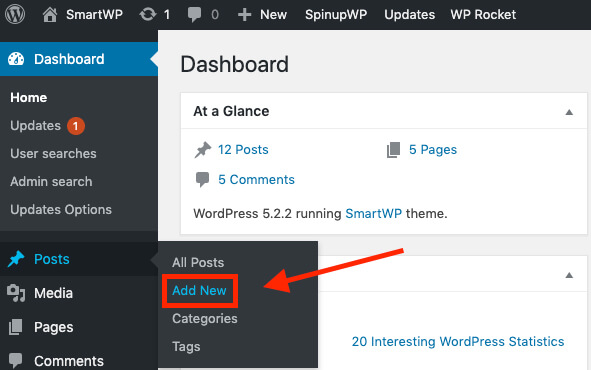 2. Step 2: Install WordPress Plugins
First of all, WordPress is open-source, which means you can customize your website as much as you want.
There are plugins you need to install, but installing too many plugins will bloat your site and make it load slower, which is what you don't want.
Which plugins should you install on your blog?
Watch this video to know all those important plugins you should install to take your blog to the next level such as Rankmath SEO, Analytify, XML Sitemap, and others.
Here is the curated list of plugins below you need to install to start with:
1. Asset CleanUp: Page Speed Booster : a plugin that allows you to control which codes are loaded on each page of your site and remove unnecessary bloating.
BigCommerce for WordPress: To start an eCommerce shop or sell digital products easily on your site.
0. PopTin: For email capture, Lead Generation, Website forms.
1. Analytify (presents the statistics from Google Analytics in a beautiful way under WordPress)
2. Embed Plus for YouTube (to add YouTube videos to your pages or Posts)
3. "IceGram" Plugin + "Rainmaker " – (Popup Notifications and Lead capture) – Those are two separate plugins created by the same company.
4. Advanced Ads (to implement all kinds of Ads on your site, header ads, in-content ads, sidebar ads. You can restrict some visitors to see ads.)
5. Rank Math Seo (Absolute Best for SEO – Indexes Your WordPress Website on Google SUPER FAST)
6. Reading ProgressBar : to Improve user experience while they read Blog posts by showing how much reading they have completed with progress bar.
7. Sticky Menu or Anything on Scroll (To get your menu header to stick while users scroll. This is important because if your menu disappears when scrolling, then people will leave your site after reading what they wanted.)
8. UpdraftPlus Backup (to Create local Backups for your Website in case anything goes wrong. You can restore the backup with one single click.)
9. XML Sitemap (To organize your website structure and notify search engines about your website. Google WebMaster needs that to know how your website is structured and rank you higher.)
10. Social Share Buttons + Floating Sidebar (to have sticky social media buttons on the side to allow sharing on social media easily. You can also decide to add social sharing buttons in the beginning or at the end of your post.)
11. Magic Post Thumbnail (To automatically create relevant thumbnails for Posts once you hit Publish. If you do not create your featured images for your posts, then use this plugin.)
12. WP Optimize (To clean your database, compress your Images for FREE + Cache your website and Make it Super SUPER Fast. )
13. WordPress Popular Posts (To display your popular posts on the side as widget – Powerful plugin to push visitors to visit other popular pages on your site.)
14. LuckyWp Table of Contents: it allows to create an SEO-friendly table of contents for your posts, pages and makes it easier for the user to navigate your site. Google also loves this plugin and will rank your posts higher if you have a table of contents.
ThirstyAffiliates: this is a must-have plugin to manage all your affiliate links. The plugin allows you to create nicer-looking versions of your affiliate links,
The problem when you apply to affiliate programs after starting your blog, you get links that look spammy like this: "http://d5409zmflmq7y-80dowlpbc9rb.hop.clickbank.net/"
Instead, ThirstyAffiliates allows you to have a nicer link like this: https://themmsexperience.com/recommends/thistyaffiliates
BONUS Plugins:
* Really Simple SSL ( to make your site secure or HTTPS instead or HTTP – very important, otherwise Google will not rank your site higher since it's insecure.)
WordPress recently upgraded its platform to a new system called "Gutenberg", which is quite confusing not only for new bloggers but old bloggers who are used to having the classic WordPress look. I personally do not like it.
The "Classic Editor" plugin is easy to use takes care of all of this and provides a more seamless experience inside WordPress.
* Pin It For Button For Pinterest.
Pinterest is an amazing traffic source for so many bloggers out there, so install the button and watch your traffic soar.
The plugin will enable your blog visitors to pin your content on their Pinterest boards, and it will enable more people to discover your blog coming from Pinterest!
Also Read: The 5+ Best Web Hosting Services (Ranked)
The Best WordPress Themes for Blogs & Business
3. Step 3: Set Up Your Blog's SEO (Search Engine Optimization)
If you want your blog posts to rank well on Google, your URL is a very important factor.
When you first install WordPress and try to create a new post or page, your URL structure will not be optimized for SEO.
The circled text following the .com is what a permalink looks like. You want your URL to contain the post title or name like this: "yourdomainname.com/postname.".
If you Google for example best travel credit cards on Google, the posts on the first page have a custom URL.
So to change your URL permalink and optimize it for SEO, go to Settings -> Permalinks -> Select Post Name -> Click on "Save" as shown below.
Your URL will now look like themmsexperience.com/best-credit-cards, instead of a random number.
Important: Once create a post or a page, the permanent URL is the only thing that you should NOT change.
You can adjust the title, meta description, the post itself, all headings, but the URL should remain intact. If you change the URL, your post will result in a 404 result ("Content not found"), and Google will decrease our blog visibility because you bring visitors to dead pages.
Create a Google analytics and Google Webmaster account
The next step is to create a Google analytics and Google Webmaster account to index your post in the search results.
Everyone has a Google account, so you simply need to use that Google account to sign up for those free services.
Google Analytics tracks your visitors in real-time and Google webmasters measure your site's Search traffic and performance, allows you to find and fix issues, find keywords you are ranking for and make your rank higher in Google Search results.
Here is a post with a video I made on setting up the SEO of your blog: SEO For Beginners: Best SEO Tutorial to Rank Higher on Google.
Now, you have setup your blog and the SEO, congratulate yourself. Nice progress!
Are you ready to create your blog? You can do it! Get started for $2.95/month and get 63% off your web hosting plan.
4. Step 4: Drive Traffic to your Blog with Pinterest
It is important to realize that SEO content undergoes a rigorous pre-publishing process:
Main keyword research → sub-keyword research → Content research and outline → Draft → Editing → Proofreading → Publishing.
If you follow the process outlined above, you will succeed with blogging.
Here are some other tips:
Keyword research is KEY. Find keywords people are already searching for.
Write blog posts that help solve problems for people. Your audience can have a variety of
problems: "how to solve my dry skin care issue?", "how to use uHaul?", "How to not feel depressed?"… etc
Focus on Pinterest as your main source of traffic by pinning a lot every day. Pinterest has now more than 400 Million people actively searching for solutions and many bloggers use it as a traffic machine on their blogs.
If you don't know how to get started on Pinterest, I've made an in-depth tutorial on how to use Pinterest Like a Pro.
Watch the video below:
As you see from the video, Pinterest is very Powerful if you use it right!
5. Step 5: Write Blog Posts that generate Huge Traffic (Keyword research)
As a beginner, the very first thing you need to learn is "Proper SEO" for organic traffic. I put together this video that will teach you everything to know to achieve 100/100 score in SEO while writing your blog posts.
Follow the steps and you will rank #1 on Google soon. Keyword research allows you to brainstorm smart blog post ideas.
My Biggest Advice: Just start posting content out there. It doesn't have to be perfect!
Alternatively, if you do not know how to create articles or just want to have articles created fast, you also have software powered with artificial intelligence that are article writers and article rewriters such as Article Forge 2.0 and Wordai 4 that can write unique articles for you.
Read my reviews of both Article Forge 2.0 and Wordai 4 to see what they can do.
Article Forge 2.0 Video Review: Urgent Message for Bloggers (SEO)
– If you want a 5 days trial of Article Forge, check out this link: Learn More
Wordai VIDEO Review: Is it the Best & Fastest Article Spinner
Learn About Wordai 4 Free Trial
Where to Get Free Photo Stocks for My blog?
There are many resources to get free photos to put on your blog. You need quality images as feature images on your posts, so that people can be encouraged to click when they visit your blog posts.
I recommend that you start off with free stock photo sites and upgrade to a paid site when you're ready to take your branding to the next level.
Here are the top stock photo sites (free & paid):
Pexels (Free)

Unsplash

(Free)
Canva (Free)
Styled Stock Society (Paid)
HauteStock (Paid)
6. Step 6: Make Money with your Blog in 2022 (4 Income Sources)
Many people ask the question: "How do you make money with a blog in 2022?". Well, below is a screenshot of how much I earned in Net profits simply promoting 1 affiliate product on my site. Imagine if you promote 100 affiliate products and all convert well => $$$.
You need to know the multiple ways you can make money with your blog: display ads, affiliate marketing (reviewing products/services), sponsorships, courses, selling ad spaces etc..
But, to increase your earnings potential, part of your audience needs to be in a profitable business niche and provide you income monthly.
This can be achieved via affiliate marketing or coaching. Let's talk about the sources of income bloggers can tap into.
Income Source #1 for Bloggers: Display Ads
There are many ways but one of my favorite ways to earn real passive income as a blogger is to include display ads in my blog posts.
All you have to do is just write high-quality blog posts that people want to read.
When your readers come to your post, you make money by them simply viewing or clicking on the ads. You will triple your income if you use platforms like EZOIC (if you have more than 10,000 monthly sessions or close to that on your website).
Read my full review of Ezoic to know how to apply and setup properly to max your earnings.
In short, display ads are when you get paid for how many people see ads on your website. A good RPM (revenue per thousand views)
is $9 to $30, depending on your niche.
Here is my ePMV with Ezoic for example.
As your traffic grows, your income grows too. So in the beginning, focus on putting out content that will increase your page views.
Here is a video I made looking at the earning potentials of 4 great ad networks for bloggers: Ezoic, Adsense, Adthrive, and Mediavine.
Watch it to decide which platform you should join.
If you decide to join Ezoic, you can try it below for Free.
Click to Join Ezoic Now for Free and Earn More Money
Income Source #2 for Bloggers: Affiliate Marketing
Affiliate marketing is a business model where you promote or recommend other companies' products and services, and you receive a commission from it (large or small) after someone purchases.
Here are some statistics about affiliate marketing:
The commission typically ranges from 3 to 10% if you use Amazon Associates, but other platforms like Clickbank or ShareASale allow you to earn up to 40-100% for digital products.
In an infographic, here is how affiliate marketing works.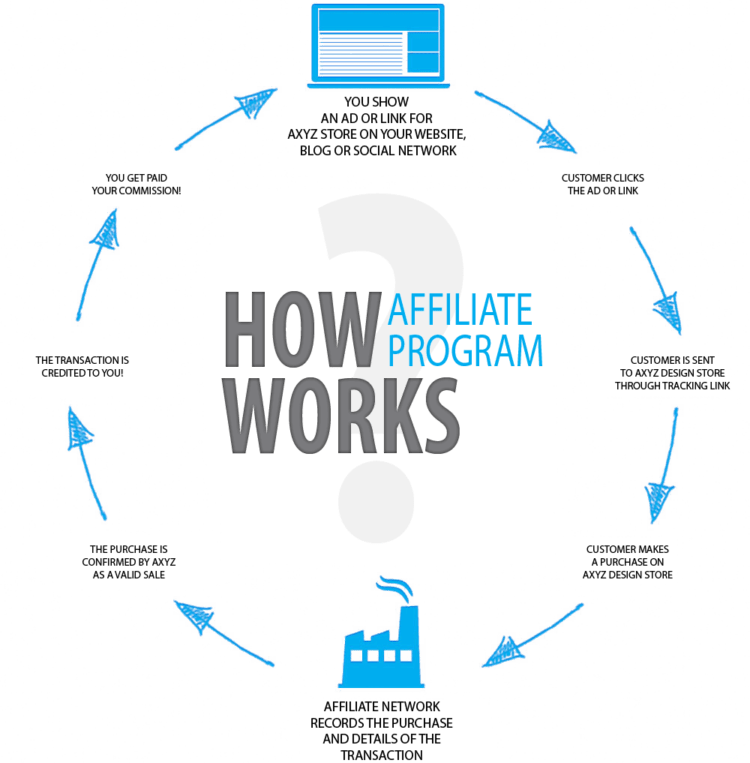 I mention some platforms below that you can use to start promoting or reviewing products and earn money now!
Most successful bloggers make sometimes 80% of their income from affiliate marketing, that's why your blog niche Needs to have Affiliate Marketing Potential.
I showed you a screenshot above of how I was able to make good money on my second-month blogging promoting one affiliate product on PayKickStart Platform.
Here is another one with recurring commissions from promoting just one product
Affiliate marketing is one of the easiest ways to make your first $100 with your blog compared to display ads.
Also Read: Best High paying Affiliate Programs
Absolute Best Ways to Monetize Your Blog or Website
What most people don't know is that most big and even small companies have an affiliate program that you can sign up for and earn commissions.
Here is what I advise you to do with affiliate marketing:
Apply to a company's affiliate program either on its website or in an affiliate network. You can use your personal Gmail or Yahoo email to apply, but I strongly suggest to get a website with Bluehost and an email address associated with your domain (e.g. info@themmsexperience.com)
After you receive the email that you are approved, take your unique affiliate link, shorten it with services like bit.ly or cutt.ly, and copy/paste it into whatever piece of text on your articles.
When a visitor clicks that particular link, a cookie is saved in their computer or phone, which attributes the sale to you depending on the cookie duration (some companies like Amazon have 24 hours cookies while others have 30, 60, 90 days, or even 6 months.
It would probably be a good idea to consider becoming an affiliate for a product or service that you are passionate about. You'll be able to choose which type of product you want to promote and you will tend to write better reviews.
TIP: Start promoting affiliate products when you already have about 500 visitors per month.
For example, if you are writing about pet care, you might want to write an article on how to treat fleas and promote Amazon products that are related to that.
However, if you write about weddings, you might want to write an article on wedding planning and promote wedding affiliate products.
TIP: Do NOT sell to your audience. ONE thing about sales is that you DO NOT SELL, this will turn people off. Simply help by honestly reviewing the product or service. They will convert.
There are several companies out there that will pay you to review their products. The best way for you to find these companies is to do a search on Google and check each one out individually.
You need to be patient with blogging, but it is a sure way in the long-term to earn passive income. A year from today, you may have a very successful blog and a small company.
Some bloggers that are full-time, make $80K/month just from affiliate programs, but it took them years to get there.
The issue is that most people get discouraged easily when starting a blog because it can take a few weeks/months before you earn your first dollar.
Here is the recipe you need to remember:
To make good money blogging, you need a high affiliate commission.
To make affiliate revenue, you need to rank on search engines and get web traffic, either using paid traffic or organic traffic.
To get the paid traffic, you can use Google ads. To get the organic traffic, you need to rank for keywords that drive the most affiliate revenue.
Examples for keywords to write about:
"Top 10 credit cards", "best beauty creams of 2022"
And then make a bullet point list of those products with affiliate links at the end of each product review.
Here is an example, if you search: "best beauty creams", here are the results:
People that search for those keywords with "best" or "top" have high buying intent and simply look for a review before deciding to buy something.
When you open one of those posts that rank on the first page, you can see that most of the anchor links or buttons will be affiliate or product links.
If you promote for example that skincare powder that costs $185 and you earn 40% for a sale, then if 10 people buy, you make $740.
This how powerful and passive affiliate marketing is. And the reality is that since your post is on the first page already, more visits = more revenue.
Examples of keywords for different niches:
In marketing or online business, those keywords can be "Top 10 landing page builders", "top eCommerce platforms", or "Best Funnel builders for marketers".
In finance, go for keywords like "best credit cards", "best auto insurance", or "top 5 home insurance programs".
In tech, go for keywords like "best laptops for college students", "best laptop for IT professionals", "2022 smartphones to buy" or "best business laptop 2022".
In the travel niche, keywords can be "best travel cards for 2022", "best travel insurance after the Pandemic".
In the food/drink niche, you can go for keywords like "best coffee makers", "top 5 affordable kitchen aid mixers" or "best kitchen gadgets on amazon".
Here is a good tip for beginners:
Focus on affiliate marketing at the beginning of your blog. Affiliate marketing is how many bloggers make their first $1500 per month from blogging and it's easy to apply to different networks.
Even though most affiliate marketing networks don't require your blog to have very high traffic, I recommend creating at least 5 blog posts
just to show the network your commitment as a blogger.
When you apply for affiliate programs, some companies will ask you to tell them about your company/blog, traffic, and social media.
Here is my sample text I use to get approved:
Hi,
I am a blogger from the US, blogging about starting an online business, blogging tips, and xxx. I also have a YouTube channel ("Freetrepreneurs)" where I cover xxx topics.

For example, I wrote several posts on how to start a blog, the best WordPress themes to start with, etc…

I decided I want to promote your product on my blog and YouTube channel because I love xxx , and it would help my audience a lot.

My traffic is all organic and mainly comes from long-form blog posts. The blog generates about xxx page views monthly with xxx followers on social media.

I plan to use the widgets and links provided to embed them into the sidebar, travel pages, within the content.
Income Source #3 for Bloggers: Sponsorships
Sponsorships are amazing to monetize your blog as a beginner. Some platforms that connect bloggers to brands are IZEA, BlogFoster, Activate, HerCampus.
Sometimes when your blog gets popular, brands reach out to you.
Some bloggers with high traffic get paid $1,000+ for a single sponsored post.
Also, if you are famous on Instagram, Facebook, Pinterest, or even TikTok, you can reach out to brands and partners by joining sponsored posts platforms that allow you to request sponsored posts and get paid.
Some platforms include: Acorn Influence, Blog Dash, Revinfluence, and Tap In Influence
If you decide to personally reach out to brands via email and ask for sponsoring, here is a template text to use:
"Hello/Hi,

I am xxx, and emailing you regarding a partnership opportunity. I am wondering if you work at all with bloggers or content creators in exchange for payments. I have been using one of your products called "xxxx" for 1 year now and am seeing huge results.

I'd love to write a detailed review of the product on my blog along with my results, which will draw my blog readers to visit and purchase your product or program. The MMS Experience gets around xxxx page views per month, with xx number of visitors and over xxx followers on social media.

I strongly believe working together will serve both of us since The MMS Experience is all about online business and marketing.

Thank you so much for your consideration and I'm looking forward to hearing from you soon.

Best regards,

xxx"
Income Source #4 for Bloggers: Selling your own Products and services
If you have an online course, you are a coach or consultant, you can also create listings of your products or services on your site and let people know that you are selling those, and they will buy if they trust your new blog.
You can host your courses on platforms like Thinkific, Teachable, Click4Course, Kajabi, and Learndash. I highly recommend Thinkific for that purpose.
TIP: if you notice one product you're selling as an affiliate that does super well for you, contemplate creating your own version of it and sell.
One blogger called "Sarah Titus" currently makes 8 figures with her blog selling different products and services including printables (Crazy numbers!!!).
As you can see, there are many different ways to make money blogging. Some of them involve more effort than others but all of them are worthwhile.
If you can stick to one of these methods then you will start to see results fairly quickly.
How much can Bloggers earn and How Much time will take?
You can make money as fast as your first week if you rely on paid traffic or as much as 10 weeks to start earning your first dollar if you rely on organic traffic.
But on average here is what you can expect:
For 1,000 pageviews, expect $7 to $15 per month (pizza money): from Adsense and Amazon affiliates.
When you get to 10K monthly pageviews, expect $100 to $700 per month. Use Ezoic and apply for higher-income affiliate programs using the list I put together.
When you hit 100K pageviews per month, expect $5,000 to $15,000 per month depending on how you optimize it with Affiliates or ads. Ezoic, Mediavine, and Adthrive are your best options, combined with affiliate marketing and online courses.
Here is a video I made about How much bloggers earn at different stages of their blogging journeys: 1K vs 10 K vs 100K Pageviews using Ad revenue and affiliate marketing.
As you see in the video, your revenue potential depends on how much you organize your site with affiliate links.
How do you start a blog in 2022 and get people to read it?
You need to focus on creating long-form useful content that Google will rank, then it will start driving traffic organically.
Your next strategy will be to focus on building an "Email list".
Building an email list using CRM software or using "Pop notification plugins" allows you to notify people when you post a new article or when you have a new product to sell.
I showed you in a video above two free WordPress plugins that allow you to capture leads on your site (Icegram and Rainmaker).
Here is a video of the 7 best social media tools you can use to drive traffic to your site easily.
Also, create your blog posts with titles or headlines that encourage browsers to click through and stay on your site.
My Content Creation Process for 2022
The guidelines are the ultimate process you can follow to cut down my writing time by a lot.
1. Pick a Topic
For a website to be recognized as an authority site in a niche, the topics you write about must be well-related to each other.
With SEO, you can't just write about anything that comes to your mind. You need to have a niche and stay consistent and relevant, and it will allow you to be recognized by Google as a go-to resource on that particular topic.
TIP: All the best niches to write content about that have high CPMs are wealth, health, business, entrepreneurship, technology, and relationship/love niche.
2. Deciding on the word count.
In general, Google prefers longer content but that isn't always true. Google still picks quality, user intent focused content over long, useless ones.
So you have to decide on how many words you need to achieve the main goal of leaving a clear message.
Although there's no absolute number to follow in terms of word count, I have observed that most articles on the first page of Google are high-quality but long-form (usually above 3,000 words).
Tip: "Type in your keyword of interest on Google, look at the top-ranking pages, and see how long their contents are. When you write your own content, you want to follow that length plus add a few more paragraphs."
3. Creating an outline.
Having an outline will save your life and time as a writer. Without an outline, expect to have an output that's far from what Google will notice and rank.
Your outline is the skeleton of your content. Don't just start typing without clearly finding out the titles of the sections or sub-sections.
TIP: Find what people are already asking Google and write about them. Use the questions Google shows you people are already searching and create subsections using those question keywords.
Then write longer and more informative content than the article that is currently sitting on the first page on Google.
As I said, do NOT pitch or sell, simply help the visitor.
Here are other things you need to consider when writing your posts:
Use frequent sub-headers to break up your text: this is for a better user experience.
Aim to improve the user duration on your site by embedding videos: If they stay longer, Google will think that they read the entire page compared to if they leave right away.
Link other internal articles and external articles: If users click on something, that meant they like your content enough to check out your recommendations or your site's other pages.
Ask people to share your posts at the end: When readers link back to your website or share it on social media, it means they trust you and they believe what you're saying; therefore Google will trust it as well.
All those factors will push Google to rank your site higher and higher.
What are the benefits of blogging?
Blogging is a powerful marketing tool that can be used to reach and connect with a large audience.
It is important to have a blog because it helps you grow your business. It also provides you with an opportunity to share your expertise and knowledge with the world. Blogs also help you build relationships with your customers and potential customers, which will help you create trust.
Blogging has many benefits such as:
-It is great for SEO because it provides content for search engines to index. When your site ranks well, you attract visitors and can monetize in many ways.
-It can be used as a lead generation tool
-It can improve customer service by providing answers to customer queries
-It can help in building up the reputation of the company.
With a blog, you can connect with other bloggers as well as people who don't have blogs but want to learn more on the topic you're blogging about.
Benefit #1: Finding Oneself
One of the most rewarding parts of blogging is writing and publishing articles. Blogging helps you learn more about yourself and get to know what you care about. Go for it!
Writing is a great way to find out more about yourself because it helps you think about who you are. Spending some time writing and reflecting on what you have done can really bring home important lessons.
Benefit #2: Helping People
Blogging is a platform that lets us share our helpful ideas and observations with the world. This allows everyone who may be interested in these topic areas to learn more about them.
Benefit #3: Social Presence
Blogging is a great way to share your thoughts and get feedback. It connects us with people who are interested in the same things and exposes our thoughts to the world around us. You can make a lot of useful online connections that can turn into fans.
Benefit #4: Make Money
You may already be a blogger, or maybe you're thinking of starting a blog. It's hard to say what your blog might bring in the future, but that doesn't mean that you can't treat it as a business regardless – after all, there are many examples of bloggers who make 4-6 figures per month from their blogs. You can earn money through advertising or sponsoring.
To be successful in life, work hard and stay focused. Succeeding in your business will earn you money that can be spent elsewhere like on your blog.
Benefit #5: Learn Entrepreneurship
This is a really great article that teaches us all about blogging. As you know, starting your own blog requires a lot of work and patience– but it's totally worth it!
To make the most out of your blog, be sure to take the time to experiment with content that resonates with you because consistency is KEY!
Writing blogs and developing skills in the field is a critical factors for success. It helps if you don't focus solely on one skill and learn how to develop in different areas like writing, marketing, and dealing with competitors.
Blogging is also a business-oriented type of work and requires as much hard work as any other type of job does.
The ULTIMATE TIP: How do you Start a Blog for Free in 2022 (Create Unlimited Free Blogs)
If you have purchased the "PLUS plan" on Bluehost that is $5.95/month (just like I have), you will be able to create unlimited subdomains or websites.
This video below is a Step by Step guide on How to start a blog for Free from scratch if you are a beginner or pro, and Create Unlimited Blogs or Websites using a specific TRICK!
I also show you how I install my theme, and make my blog go from under construction to "Live". I show you all the details you need to start a successful blog that makes money.
Click to Watch!
As you can see in the video, I am able to create unlimited blogs with Bluehost for FREE and after driving enough traffic, I started monetizing all of them.
You need to be self-hosted, particularly if you are wanting to make money blogging and Bluehost is the most cost-effective platform to use.
Note that you don't have to have the Plus plan (although recommended), you can stick with the basic plan if you are a complete beginner.
There is no excuse for you! You need to start your blog now and share your knowledge with the world for just $2.95/month.
Try Bluehost Today & Make Money!
SEO is important for the success of your blog. If you want to fully learn SEO for Free, I put together a 1-Hour Full course (FREE) on this website to guide you through all the tips and basics about SEO to be successful as a blogger.
Here it is: SEO For Beginners: Best SEO Tutorial to Rank Higher on Google
Infographic: How to Start a Blog to Make Money in 2022.

Feel free to post this detailed infographic on your own blog, website, or Pinterest board! Just please make sure to add a link back to my blog as the source as I took hours to create it. 🙂
If you want to download the high-resolution PDF version of it for Free, click below. You are authorized to use it as a lead magnet, as a gift, you can resell it if you want.
Download PDF version of Blogging Steps
Other recommended posts are: How to Rank Higher on Google (Ultimate Guide)
"Sharing is caring."
If you think this post was helpful, please share it on social media so others can be inspired.